Ninjalane Overclocking Party - Keep Frost Flowing
Author:

Dennis Garcia
Published:

Tuesday, October 25, 2011
Introduction
As they say practice makes perfect and how better to refine those LN2 handling skills than to put together another overclocking party!

The party this time was structured a little differently than before with the intent that everyone who attended would have a system to overclock and hopefully learn something in the process.

The party occurred on Saturday October 22nd and carried over to the following Sunday to further refine the overclocks and try to pick up a few extra seconds and better score. Like before there was 160L tank of LN2 available to use and over the span of 2 days a good majority of it was used up.

Below are some pics from the event including some glam shots of the computer bench, some shots of the 25L Dewar getting filled and a few frosty glamour shots just to show off.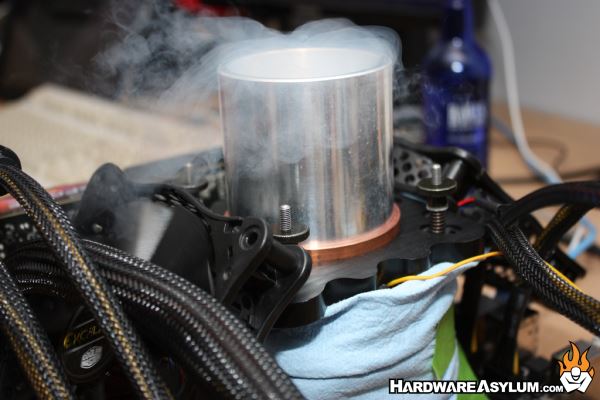 Motherboards
Asus Rampage III Extreme
EVGA P55 Classified
Gigabyte H55N
Gigabyte X58A-OC
Asus P8Z68 Deluxe
Processors
Intel Core i7 920
Intel Core i5 750
Intel Core i7 2600k
Video Cards
BFG GTX275 OCX
Radeon HD6950
Container
deBauer "Beast"
Scores
Highest Clock: 5.4Ghz (Core i7 920)
Best Score: wPrime 1024 @ 143.50 Sec (Core i7 920)
World Record: Heaven Benchmark - Basic w/ HD6950 Crossfire
Available Images