Cooler Master HAF XB Case Review
Author:

Dennis Garcia
Published:

Tuesday, November 13, 2012

Case Layout and Features Cont.
Under the motherboard you will find a four bay SSD drive cage and the two tool-less locks for the 5.25" drive bays. There is a limited amount of room between the two drive cages but removing the SSD drive cage can resolve that pretty easy.

The opposite side of the HAF XB features the built in hot-swap bay and two drive back plane for hooking up the SATA cable and power. Behind the drive bay you will find the location for the power supply complete with raised ventilation stand and extension to accommodate even the longest of PSUs .

Cable routing is a challenge in the HAF XB but lucky for us the motherboard tray is removable and there are loops in the base for attaching cable ties and wire wraps.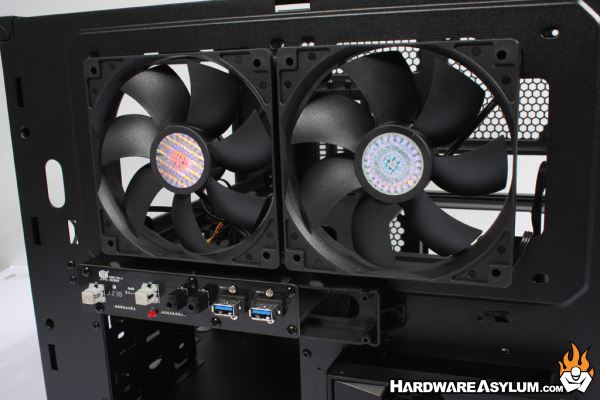 Cooler Master created the HAF series to push the limits of case cooling and give the user an over abundance of cooling options. You will see evidence of this at the front of the chassis with dual fan positions. CM has included 2x 120mm case fans but they can be upgraded to 2x 140mm fans quite easily.

Both side panels have been amply vented around the carry handle and completely blocked below the motherboard tray to protect the components and hide your bad wiring.

The top panel is very unique in that it features a very large mesh opening with rubber mounts for a 200mm cooling fan. Sadly the 200mm x 30mm fan is not included but can be bought for about $15 US.