Cooler Master HAF XB Case Review
Author:

Dennis Garcia
Published:

Tuesday, November 13, 2012

Installation and Construction
The Cooler Master HAF XB supports standard sized ATX motherboards up to the SSI-CEB form factor meaning that the largest motherboard that will fit is the Asus Rampage IV Extreme, and other similar designs. For our test build we used the Asus P9X79 and matched it up with the new Silverstone HE01 dual tower cooler. Both the motherboard and heatsink fit quite well leaving the heatsink towers dangerously close to the top panel. No telling if this configuration would work with the 200 x 30 mm fan installed but we would almost expect users of that configuration to decide on watercooling over a performance aircooler.

There are no grommets for running cables but you will find two one inch gaps along both sides of the motherboard tray for running cables. This keeps the case design extremely clean and allows you access to move the cables away if you need to swap motherboards.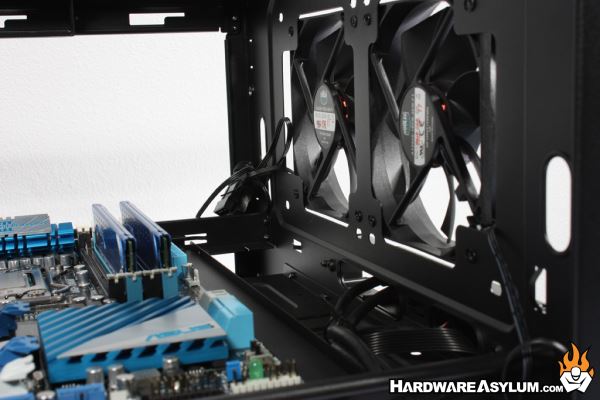 One of the great things about the HAF XB is how much room you get for custom DIY watercooling setups and depending on the size of your motherboard you may even have more than you bargained for. The gap between the motherboard tray and edge of the case is approximately two inches giving you plenty of room for any size radiator you wish to install.

Construction
As with all Cooler Master chassis designs the overall construction is quite good and comprised of high quality steel and double rivets throughout. From a casemodding perspective the HAF XB has immense potential depending on how much of the chassis you can live without.

For instance the cross bars across the top and side can easily be removed but will prevent you from attaching the panels or carrying the case around using the included handles. If you wanted to use the HAF XB as a full time test bench then removing the cross bars and front panel would be extremely easy and quite rewarding but, likely not the best use of your money.

This brings us to our biggest complaint with the HAF XB which is the lack of expansion slots. These days most motherboards are supporting 3-way and 4-way video card setups but with a standard seven slot chassis design you are limited to single slot cooling solutions or a maximum of 3-way configurations.

As you can imagine, and see from the photos, the HAF XB is missing the needed eighth slot and doesn't even have the patented cable lock for premier mouse and keyboard protection. This is a major missed opportunity in our opinion especially considering that the HAF X came with nine slots and smaller HAF 922 with eight.