How to Insulate for Single Stage Phase Cooling
How to Insulate for Single Stage Phase Cooling
Author:

Dennis Garcia
Published:

Tuesday, May 17, 2011
Installation Supplies
There are several ways to insulate for phase cooling and the method I'll be showing you is one I have adapted as a hybrid between phase cooling and the more extreme option using liquid nitrogen (LN2).

To begin you will need many of the items shown here.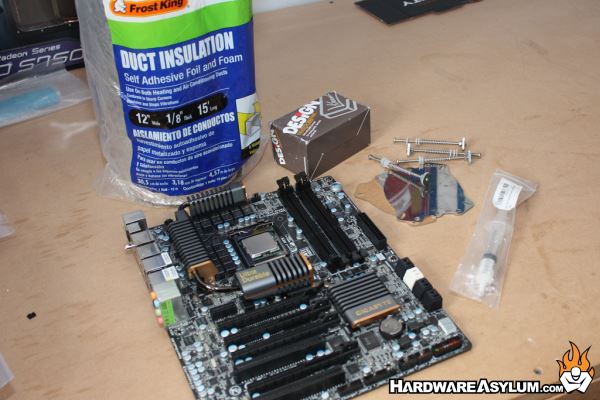 What you will need
Some Frostking HVAC insulation
Kneaded gum eraser (I am very familiar with this stuff)
Phase cooler mounting hardware
Shop grade paper towels (not pictured)
Motherboard with processor installed.
For this guide I'll be using the Gigabyte GA-P67A-UD7 with an Intel Core i7 2600K.
The majority of the insulation sealing will be done using kneaded eraser. Kneaded eraser becomes most pliable when it is warm and simply pulling it apart and mashing the parts back together will heat it up enough to use. After it has warmed up you'll want to tear of a small piece and mold it into the shape that best fits where it needs to go and mash it into place.
Kneaded eraser is what I would call permanently temporary meaning that it tends to stay in place until you remove it.