Asus P8P67 Standard Motherboard Review
Asus P8P67 Standard Motherboard Review
Author:

Dennis Garcia
Published:

Thursday, May 05, 2011
Multi GPU Index
A new feature we are adding to all of our motherboard reviews is what we call the "Ninjalane Mulit GPU Index". The Multi-GPU index is a portable set of data we can apply to determine the multi-gpu potential of any motherboard. A higher index number indicates a favorable condition for multiple graphics cards while a lower number indicates a hindrance in one of our leading indicators. Since the Index does not take into consideration system architecture it can be applied to motherboards regardless of processor or chipset generations.
Multi-GPU Scorecard
Index: 3.75
Optimized: 1x
Max Support: 2x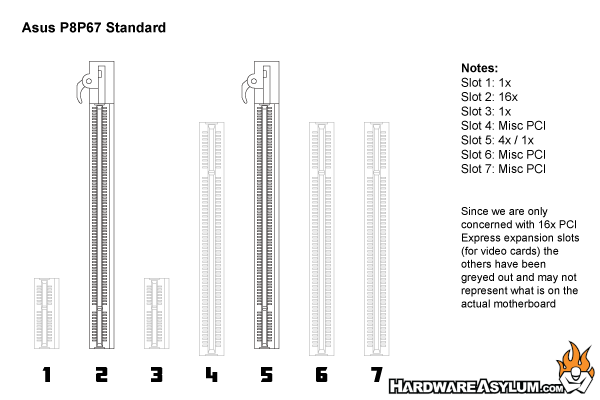 This motherboard will support up to 2 graphics cards but as we indicated is optimized for single card operation, in fact the primary graphics card is very greedy and doesn't share any bandwidth.

For best video performance you will want to populate the top most PCI Express slots with your video card, Given the distance between the slots you'll need to use the included SLI bridge or make sure your Crossfire connector is long enough to reach. The last slot borrows bandwidth from the P67 chipset and can be configured for 1x or 4x operation, however keep in mind that enabling 4x support will disable all of the 1x PCI Express slots and some onboard features. 4x MUST be enabled to run Crossfire.