Asus P8P67 Evo Motherboard Review
Asus P8P67 Evo Motherboard Review
Author:

Dennis Garcia
Published:

Monday, April 25, 2011
Board Layout and Features
Black and Blue has been a very popular color scheme for many years and fits well with the black PCBs common on higher end motherboards. The ASUS P8P67 Evo features a black PCB and electric blue heatsinks. You'll find a variety of different colored expansion slots based on their usage and arraigned to provide maximum flexibility for the average user.
The back of the motherboard is extremely clean with only a few surface components directly under the digital PWM. On the front of the board you will find heatsinks in the traditional North Bridge location that would normally indicate an additional chip in this location. According to the traces found on the back of the PCB this would not be the case.
Digi+ VRM
ASUS has included a very unique PWM design with this motherboard that spans the entire P8P67 line called Digi+ VRM. The digital VRM is a programmable mirco processor that controls each of the digital power phases to increase power efficiency and lower overall heat production. Combined together this translates to higher system stability, better overclocking and longer life. System tuners can control the VRM thru software or manually thru BIOS controls; however in most cases you can leave them on auto and enjoy all of the benefits without the hassle.
The cpu socket is a Foxconn part featuring the standard exposed metal finish. We have seen many builders opt for the black chrome finish but given the abundance of silver capacitors scattered around the PCB the metal color just seems natural.

Standard 8 pin 12v power is required to run any Sandy Bridge system and you'll find the power socket up near the PWM coolers.

There are no obvious voltage test points on the ASUS P8P67 Evo so you'll have to rely on software monitoring for voltage and temperature.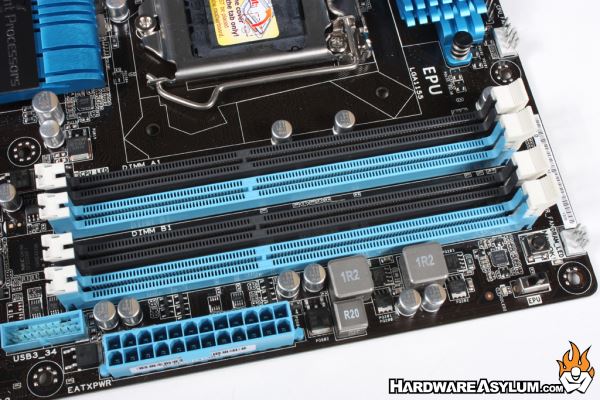 Dual channel memory comes standard on the Sandy Bridge and the Evo supports DDR3 modules up to 2200Mhz across a total of 4 banks available with a maximum of 32GB supported. 24pin ATX power is located in the traditional location near the upper edge of the motherboard.