News
New CYBERPOWERPC Zeus HTPC Series - The Ultimate HTPC
CITY of INDUSTRY, CA (July 9, 2013) – CyberPower Inc. www.cyberpowerpc.com, a global manufacturer of custom gaming PCs, today announced the Zeus HTPC, a sleek new series of Windows-based home-theatre PCs that can double as your primary desktop.

The Zeus HTPC combines the compact and stylish design of a home theatre system with the power and performance of a gaming PC. The Zeus HTPC is your DVR, enthusiast home theatre PC, gaming console and DVD/Blu-Ray Player all in one thin micro-ATX chassis that fits perfectly in your home theatre stack or on your desk. The chassis utilizes a passive cooled heatsink technology paired with razor fins for maximum heat dissipation and minimal noise. CYBERPOWERPC will offer six Zeus HTPC models.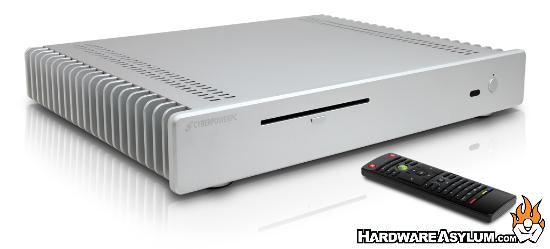 The Zeus HTPC is a multimedia monster powered by your choice of a 4th Generation Intel® Core™ processor or AMD APU to provide easy access to all your favorite multimedia applications from PC gaming and movie streaming to surfing the web. Combined with discrete graphics with the AMD Radeon HD 7750 users can dive into the latest PC gaming titles in full HD and beautifully rendered graphics in rich detail.
CYBERPOWERPC took special care to ensure the Zeus HTPC is seen and not heard. The system delivers silent operations even at maximum loads with its passively cooled chassis and optional silent edition video card. The only thing users will hear is the crisp sound of their game, movie or TV program and not annoying background fan or system noise.
In spite of its sleek design, which measures just 17.125x15.35x2.75 inches (L× W×H), the Zeus HTPC is the quintessential multi-purpose system with a host of features, including Windows Media Center compatibility. The Zeus HTPC's on-board IR receiver makes it easy and convenient to connect the system to you favorite remote. Buyers also have the option of adding the InfiniTV Cable Tuner card or other TV tuner options, which can record live TV in high definition. The Zeus HTPC can record up to four channels simultaneously so you can watch want you want when you want.
The Zeus TV Pro A100 powered by an AMD APU is priced at $699 and features:
AMD A8-6400K Quad-Core CPU
8GB System memory
1TB 7200 RPM HDD
Slot-loading DVDRW
802.11n WiFi
Media Center Remote
Logitech K400 Wireless Keyboard with built-in Touchpad
The Zeus TV Pro i100 powered by a 4th Generation Intel® Core™ processor starts at $895 and includes:
Intel® Core™ i5-4430 Quad-core Haswell CPU
8GB system memory
2TB 7200 RPM HDD
Slot-loading DVDRW
802.11n WiFi
Media Center Remote
Logitech K400 Wireless Keyboard with built-in Touchpad
All six Zeus HTPC models can be customized with a number of performance hardware and component upgrades such as CPU/GPU upgrades, solid state drives, hard drive, performance gaming memory, gaming peripherals, business productivity software, and more at the company's website, www.CYBERPOWERPC.com.

All CYBERPOWERPC gaming PCs include an industry best 3-year limited warranty.
Related Web URL: http://www.cyberpowerpc.com
comments powered by

Disqus