News
Cooler Master Announces The CK720 65% Mechanical Gaming Keyboard
It would seem the popular reign for the 104 key keyboards is coming to an end, at least in the gaming space. For gamers the 10-key pad is rarely used and tends to take up space on their gaming desks and this is where a keyboard like the CK720 65% keyboard comes into its own.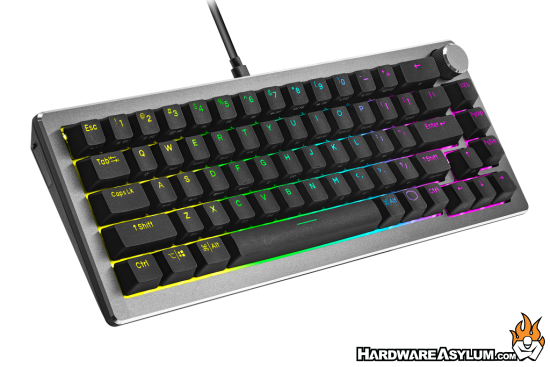 Not only do you remove the excess bulk but can get your mouse and keyboard closer together for a more ergonomic hand position.
Cooler Master today launches the first mechanical gaming keyboard with design and customization in mind. The CK720 65% Mechanical Gaming Keyboard was made for enthusiasts in mind yet it is still approachable for anyone wanting more from their keyboard. Building upon the success of the CK721 gaming keyboard,
the CK720 65% Mechanical Gaming Keyboard integrates several new features:
Hot-swappable switches
Enthusiast-level Kailh Box V2 switches pre-installed
New Cooler Master Stabilizers optimized for minimal rattle and pre-lubed for smoother travel
2 separate Silicone Dampening Pads: on the PCB and on filling the bottom cover for noise absorption and satisfying sound signature
PBT doubleshot keycaps for more durability
Precision Three-way Dial Control Knob
Two-step kickstand
Per key RGB backlighting
I would be interested to see how many gamers would take advantage of the "hot swappable" switch design AND, if they do, how abusive was that gamer to their gear?
Check out the product page for more information on the Cooler Master CK720
Related Web URL: https://www.coolermaster.com/catalog/peripheral/ke...