Cooler Master MasterCase Pro 6 Case Review
Author:

Dennis Garcia
Published:
Tuesday, March 14, 2017

Introduction
Casemodding is quickly becoming a lost art and while hardware enthusiasts like myself cannot look at a case without exploring the modding possibilities there is a good majority of users who would much rather have their PC in a nice looking case and call it a day. The MasterCase series was born from the roots that it can be anything anyone wants and based on the mods you can find across the Internet I believe they have succeeded. So, what happens when you take the famous MasterCase 5 and re-skin it to be something a little different to disguise its modding roots?
In this review I'll be looking at the Cooler Master MasterCase Pro 6. This is a chassis based on the famous MasterCase 5 but with a completely different outward appearance.
Re-skinning a chassis is not an uncommon thing as it saves on expensive tooling and allows for a good amount of reuse. This can maximize profilts, make more money, blah blah #goodthings. Thing is, Cooler Master rarely does this and I am struggling to think of a chassis made in the past 10 years that wasn't a completely original design.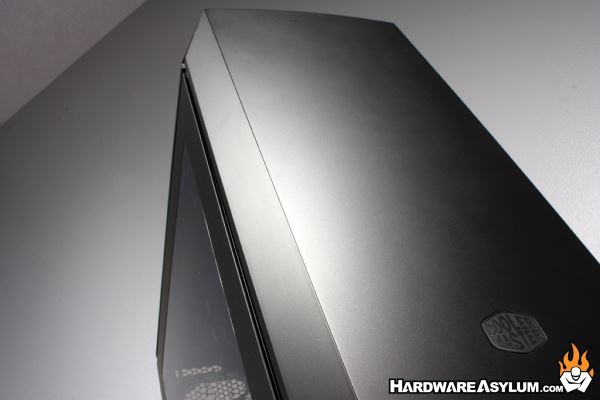 Specifications
Model MasterCase Pro 6
Product Number
- Blue : MCY-C6P2-KW5N
- Red : MCY-C6P2-KW5N-01
Available Color Dark metallic grey exterior with black interior
Materials Steel body / Plastic panels
Size (LxWxH) 544 x 235 x 548mm
Weight 11.6 Kg
Motherboard Support ATX, Micro-ATX, Mini-ITX
Expansion Slots 7
Drive Bays 5.25" x 2 / Combo 3.5" / 2.5" x 5 / SSD 2
I / O port USB 3.0 x 2, Audio in / ou
Pre-installed fans Front 140mm x 2 / Rear 140mm Blue / Red LED Fan x 1
Fan Support Top 120/140mm x 2 / Front 120/140mm x 3 / Rear 120/140mm x 1
Liquid Cooling Support Front 240/280mm / Top 240mm/280mm (max. 297mm radiator length) / Rear 120/140mm
CPU Air Cooling Support 190mm/7.48"
VGA Card Support 412mm/16.22" (without 3.5" HDD cage) / 296mm/11.7" (with 3.5" HDD cage)
Cable Management 35mm
Dust Filters Front/Bottom
Power Supply Support Bottom mount, ATX
Extras Side Window Panel / Front bottom Blue or Red LED Strip x 1
MasterCase Pro 6 is a very "plain" chassis that shares many of the popular design queues found throughout the MasterCase series. As with all MasterCase cases you can mix and match components with anything offered from the Cooler Master store including a variety of aftermarket parts from 3rd party vendors. As this is a Pro edition chassis it comes with a good number of extras including the bracket for a top mounted radiator and additional storage cages so there won't be much need to acquire additional parts.
In my case reviews I attempt to look at the case through the eyes of the casemodder and will be looking at things like case construction, cooling and modding opportunities. These features can be important as they will determine the level of effort needed to complete a modding project and may even help users decide if a particular case will even work for their build. Because of this I won't be spending much time on installing the basics like a motherboard or video card.