AZIO MK Retro Mechanical Keyboard Review
AZIO MK Retro Mechanical Keyboard Review
Author:

Dennis Garcia
Published:
Sunday, October 30, 2016

Introduction
Keyboards are an interesting accessory that actually pre-dates the mouse as a primary input device. Due to their age they have also gone through a number of minor revisions from the types of switches used, to the layout of the keys and even the configuration of the keys as they interface with your fingers. However at the heart of the keyboard is the need to input data and it was all based on the typewriter.
In this review I'll be looking at the AZIO MK Retro keyboard. This product was shown at Computex this year and really captures the essence of what it means to be retro with just a touch of steampunk. Azio calls it
"A nostalgic classic reborn with modern innovations fit for composing literary masterpieces. Introducing the AZIO MK Retro, a typewriter inspired mechanical keyboard. "
As with all the MGK keyboards we have seen, there is no software for the MK Retro. All of the functionality is controlled through the keyboard function keys. In fact, given that this keyboard isn't designed for gaming there isn't much in the way of "extra" functionality. No Lighting, macros or hot keys, just a well built mechanical keyboard.
Specifications
Model: MK-RETRO-01
Interface: USB
Switch Type: Tactile & Clicky Blue
NKRO: Full Key Rollover
Cable: 6 Ft. Braided
OS Support: Windows Xp, Vista, 7, 8, 10
Dimensions:
- Keyboard / 5.8 X 17.9 X 1.6 in
Weight: 2.3 lbs / 1043 g
Box Content: Keyboard / Thank You Card / User Guide
Warranty 2 year limited
From the specifications the AZIO MK Retro looks like any other mechanical keyboard using Blue switches. It doesn't say in the specifications but I'm going to assuming they are Kailh Blue switches given that past Azio MK keyboards were all using that switch.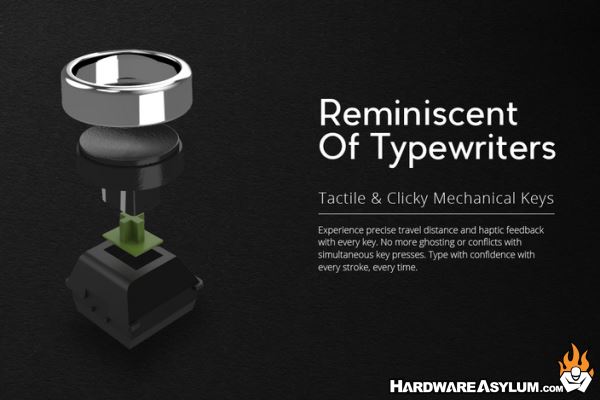 The Blue is a good choice for a retro style keyboard as it will give you feedback and really does remind you of an old electronic typewriter and classic IBM keyboard. Of course you can get that with "any" keyboard using a blue switch, what really sells the entire package is the design of the MK Retro.
One of the definitive features of a classical typewriter was the key style. They were flat and round unlike the square tiles which have dominated the keyboard market since the 80's. AZIO has replicated these marvelously with a slight dish in the middle to fit a fingertip and chrome outer ring to finish the design. The base of the keyboard is a high gloss black extending the entire length of the keyboard and edged with a chrome bezel.
The keys sit above the keyboard surface and while this has been done on previous AZIO designs it really helps complete the typewriter style on the MK Retro.
Keyboard feet are integrated into the keyboard with four large rubber dome pillar on each corner. Tilting the keyboard is accomplished by twisting the front two feet to extend them outwards.
Testing and Conclusion
I am a bit of a touch typist and for that to be effective it helps to know where each key is exactly. Not so much where Q and Z are located but how far you need to move your finger. I found typing on the MK Retro to be easy to learn however when typing out my first few paragraphs I had quite a few errors which I attributed to "fat fingering" two keys at once. When trying to figure out why I noticed that while the round keys look nice they are also extremely close together.
You see, on a classical typewriter the round keys were quite small for two reasons. First was to prevent you from hitting more than one key at once and the second was to prevent your fingers from getting stuck. I suspect most readers of this review may have never seen, much less used a classical typewriter so you'll just have to take my word for it.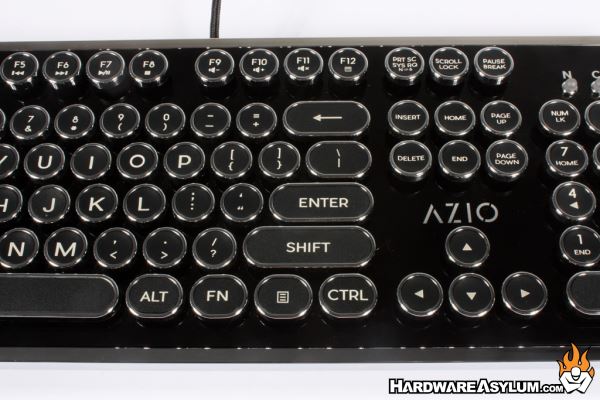 Honestly this is my only gripe with the MK Retro. The style and looks are excellent, switch choice is perfect, I love the chrome edges and even the pillar style feet. Had the keys been slightly smaller so to maintain a traditional key gap they would have been perfect. I suspect this was done to reduce the empty space between the keys and maintain a balanced appearance.
Good Things
Retro Look
Lots of Chrome
Blue Switches – Tactile and Clicky
Rounded Keys and Edges
No LED Lights
Bad Things
No LED lights
Keys are close together