ROCCAT Tyon – All Action Multi-Button Gaming Mouse Review
ROCCAT Tyon – All Action Multi-Button Gaming Mouse Review
Author:

Darren McCain
Published:
Tuesday, March 03, 2015

Introduction
It's no secret around Hardware Asylum that the Roccat Kone XTD is my go to mouse. That's why I jumped at the chance to review the new top dog, the Roccat Tyon – All Action Multi-Button Gaming Mouse. With the Tyon design Roccat has embraced the multi-button mouse which are favored by MMORPG and RTS players. With a total of 14 programmable buttons and a few new tricks up its sleeve the Tyon has all the boxes checked to become my new favorite mouse.
Roccat has done more than target the macro heavy gaming styles favored on MMORPGs and the like. They have designed the Tyon with functionality and button designs that favor game styles like the FPS. Intrigued? Let's take a closer look.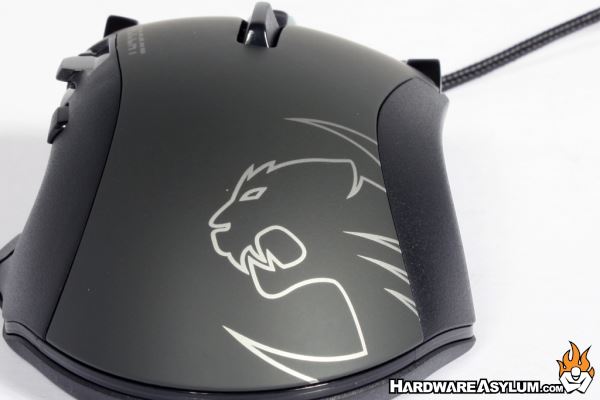 From first glance the Tyon has a distinctive look. Currently offered in the all black you see the sharply contrasting black and white design that the Tyon looks immediately different from any previous Roccat mouse design. The slanted shape and thumb setup are setup solidly in a right handed style. Roccat has also dramatically redesigned the accent lighting as well moving the previous racing stripes to be more of a ground effects lighting.
But, I get ahead of myself! Let's look at the specs.
Specifications
Pro-Aim Laser Sensor R3 with up to 8200dpi
1000Hz polling rate
1ms response time
12000fps
10.8megapixel
30G acceleration
3,8m/s (150ips)
16-bit data channel
1-5mm Lift off distance
Tracking & Distance Control Unit
72MHz Turbo Core V2 32-bit Arm based MCU
576kB onboard memory
Zero angle snapping/prediction
1.8m braided USB cable
Founded in 2007, ROCCAT may be the freshest name in gaming. Not only do they offer a full line of professional level gaming peripherals, they also offer support for the eSports scene with a selection of avatars, custom Counter Strike maps and GUIs. Even their site offers some of the most innovative marketing I have ever seen. Our European friends have been enjoying ROCCAT products for a few years now and only recently have ROCCAT products become more widely available around the world.