ROG Strix Scope NX TKL Deluxe Keyboard Review
ROG Strix Scope NX TKL Deluxe Keyboard Review
Author:

Darren McCain
Published:
Friday, March 17, 2023

Introduction
Last year I had the chance to review the ROG Strix Scope NX TKL in Moonlight White and it quickly became my daily driver. I fell in love with the 80% form factor. But somewhere in the back of my mind, I had to know what I was missing from the Deluxe version. Today we are going to find out!
Enter the ROG Strix Scope NX TKL Deluxe Keyboard. The Deluxe takes everything about the Strix Scope NX TKL form factor and adds a plush new wrist rest. Oh, and this time its black.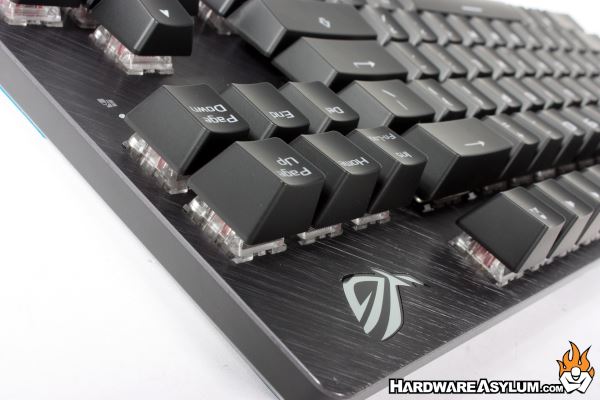 The ROG Strix Scope NX TKL comes in several flavors. You can get the polished black Aluminum color scheme seen here or the Moonlight White we reviewed previously. You can also choose between the ROG NX Switches or the Cherry MX switches. ROG has released several limited-edition versions as well though those may be a bit hard to track down.
Currently ROG only offers the Deluxe package in Black. Stepping up to the Deluxe version adds a, well, deluxe wrist rest for just a few dollars more. I can understand why many buyers might not want that bigger footprint in a small form factor keyboard but it is a pretty nice upgrade. You can also get your Deluxe in a wireless version with tri-mode connectivity if you prefer to cut the cord.
The feature set is shared across all of the wired Strix Scope NX TKL keyboards.
Features
Created for FPS Gamers: the tenkeyless form factor provides more room to move the mouse, while the enlarged L-Ctrl key minimizes inadvertent pressing of other keys
Portability: The compact keyboard fits easily into backpacks while the detachable cable prevents scuff marks or scratches
Quick-Toggle Switch: Instantly shift between function and media key inputs
Stealth key: Tap to hide all apps and mute audio for instant privacy; tap again to play on
ROG-exclusive gaming switch – ROG NX Mechanical Switch, fast actuation with ROG-tuned force curves for great keypress feel and feedback
Durable construction: Aluminum top-plate with striking slash aesthetic combines resilience and style
Specifications
Key Switch:
ROG NX: Red
ROG NX: Blue
ROG NX: Brown
Connectivity: USB 2.0
Size (Full/TKL): 80%
Actuation Force:
Lighting: Per-Key RGB LEDs
AURA Sync: Yes
Anti-Ghosting: N-Key Rollover
Macro Keys: All keys programmable - except Fn
USB Report rate: (USB Report rate) 1000 Hz
Profile Hot Keys: Fn + 1 / 2 / 3 / 4 / 5 / 6: Profile 1 - 6 (6 is default profile)
Lighting Effects Hot Keys: Fn + Right or Fn + Left
Brightness Setting Hot Keys:
Fn + Up: Brightness up (5 levels)
Fn + Down: Brightness down (5 levels)
Clear On-Board Memory Hot Keys: Hold Fn + Esc for 15 seconds
Macro Hot Keys:
Step 1: Fn + Left-ALT to start recording
Step 2: Fn + Left-ALT to end recording
Step 3: Assign Macro Key
Media Hot Keys:
Play/Pause (F5),
Stop (F6),
Previous (F7),
Next (F8),
Mute (F9),
Volume Down (F10),
Volume Up (F11).
Stealth Key (F12)
Cable: Detachable 1.8m braided USB cable
OS: Windows® 10
Software: Armoury Crate
Dimensions:
356 x 136.2 x 39.7 mm (keyboard)
356 x 75 x 21 mm (wrist rest)
Weight:
880g with cable
04kg with wrist rest
Color: Black and Gray
Contents:
1 x ROG Strix Scope NX TKL Moonlight White keyboard
1 x ROG Strix Scope TKL Deluxe wrist rest
1 x Detachable braided USB Type-A to Type-C cable
1 x Sheet of ROG stickers
1 x Quick Start Guide
1 x Warranty booklet