Thermaltake eSports Galeru Mouse Bungee Review
Thermaltake eSports Galeru Mouse Bungee Review
Author:

Warren Young
Published:
Monday, August 12, 2013
Introduction
Up until recently, I never knew mouse cord management was something I would want or even need. Of course, up until recently I would game using whatever mouse I could find out of the bargain bin, so if the cord happened to snag up on my keyboard tray or catch on my foot and cause my mouse to take a dive off my desk tray, I wasn't too concerned. Recently however, I took the plunge and moved up to a gaming mouse and started to put some thought into protecting this little investment.
Enter the Tt eSports' Galeru mouse bungee, a two-piece bungee system designed for gamers. The arm on the Galeru has a flexible groove that the mouse cord fits snugly into, and the weighted non-slip base keeps the system secure on the desk. Assembly is completely tool less, with the flexible arm connecting to the base by a rather large magnet, so taking it apart to transport and setting it back up again is effortless.
There is nothing that can accidently break, snap, or wear with the Galeru making it an almost perfect accessory.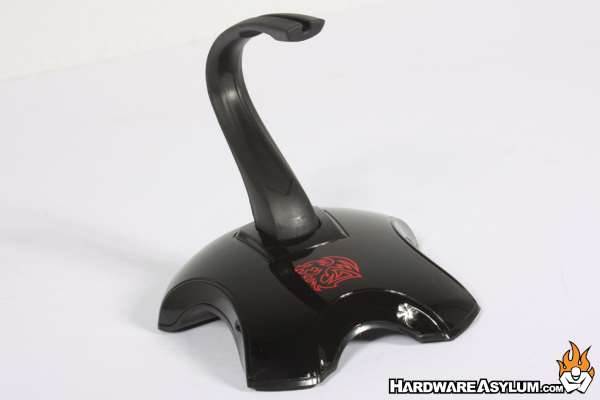 The benefit the Galeru provides is twofold. One, it keeps the majority of the mouse cord stationary so there will never be any catching, snagging, or rubbing to cause unneeded wear against desk edges. Two, the bungee arm controls the moving section of the cord so you are always working within the confines of your playing mat, leaving you with nothing but smooth mouse gliding.
The pull from the bungee neck isn't stiff or unyielding, and I never felt like it was trying to forcibly yank the mouse out of my hand fully stretched. It's a gentle reminder when I was reaching the bounds of my mouse surface to come back to center.
At just $15, it's definitely a worthwhile investment to pick one up, especially with gaming mice these days reaching close to triple digits. Even if you're running a bargain mouse on a keyboard tray, like I was the benefit of the Galeru is there. If you're tired of the mouse cord causing mayhem, you can say goodbye to all of those issues forever for less than the price of a matinee movie ticket and small popcorn.
Available Images