Thermaltake eSPORTS Meka G-Unit Keyboard Review
Thermaltake eSPORTS Meka G-Unit Keyboard Review
Author:

Darren McCain
Published:
Wednesday, September 04, 2013
Introduction
It's hard to believe there was a time when the keyboard was the most neglected part of any gamer's arsenal. Standard OEM keyboards gave way to custom membrane setups and finally to high end mechanical products. Thermaltake has been a driving force in this revolution through their Tt eSports line of gaming accessories. Today's G-Unit Red Switch Edition continues that trend by bringing quality Cherry MX Red switches to their already popular G-Unit Edition keyboards.

The G-Unit Red Switch Edition is a striking black with red accents following the most popular Tt eSPORTS color scheme. This theme is further accented by the eSPORTS logo on the wrist rest and the red lit Tt logo at the top. Pair these good looks with the heavy mechanical feel of this over 5.5 lb keyboard and you have a force to be reckoned with.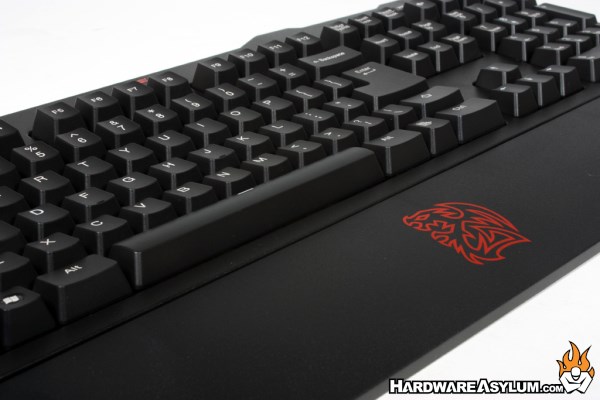 The Tt eSPORTS Meka G-Unit keyboard line comes in several editions allowing you to find the keyboard that best fits your style without sacrificing performance. From the compact Meka to our G-Unit Red Switch Edition Thermaltake has a keyboard for you.
Meka - P/N:KB-MEK007US
G1 - P/N:KB-MEG005US
G1 Illuminated - P/N:KB-MEG005USB
G1 Prime Edition - P/N:KB-MEG005USJ
Gunit - P/N:KB-MGU006US
G-Unit Illuminated Edition - P/N:KB-MGU006USB
G-Unit Combat White - P/N:KB-MEG005USC01
G-Unit Battle Edition - P/N:KB-MGU006USF
G-Unit Red Switch Edition - P/N:KB-MGU006USH
Previously, the Meka line was based around the popular Cherry MX Black Switches with only the Poseidon Illuminated offering a diversion into the Cherry MX Blues.
Fortunately Thermaltake works closely with professional gamers and the demand for a Red Edition quickly made its way to production.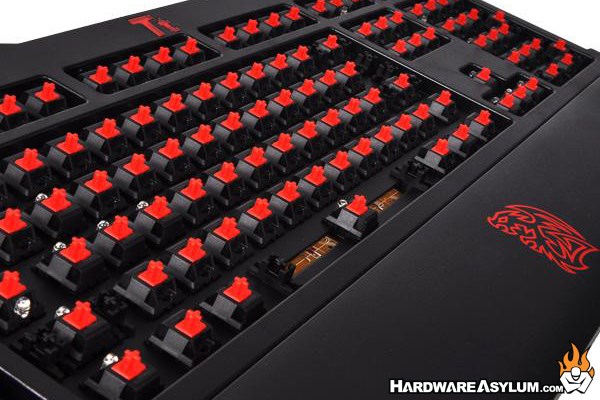 Choosing your mechanical keyboard really boils down to identifying your particular flavor on the Cherry MX switches you like the most. Blue tends to favor typists with a more tactile or "clicky" action. Blue can also make it harder to double tap but provides the most feedback in terms of touch. Reds require less force and tend to favor a softer touch which can also lead to accidental key presses but can be more responsive. Black switches are similar to reds but require more force to actuate the key. Black switches require 60 cN (centi-Newtons) of force to actuate, while the Red switches only requires 45cN. Browns tend to be a little bit of both. While they are less tactile, and less "clicky", they do have a feedback to them while still requiring less force than the reds. Green is a very rare switch type often referred to as a stiffer blue making its inclusion all the more notable. Green is both a tactile and a clicky switch often reserved for the space bar. You can both feel the tactile bump and hear the "click" that occurs when the activation point is hit.