Crucial 5600Mhz DDR5 Memory Review
Author:

Dennis Garcia
Published:
Thursday, February 23, 2023

Memory Overclocking and Conclusion
Normally this is the part of the review where I am super exited to show the exciting Byte-Match between the default and overclocked system and I am happy to report that I was successful in getting these Crucial DDR5 5600Mhz memory modules to run stable at 6000Mhz. This type of overclock was a straight frequency switching as the Crucial modules didn't respond to timing or voltage changes.
CPUz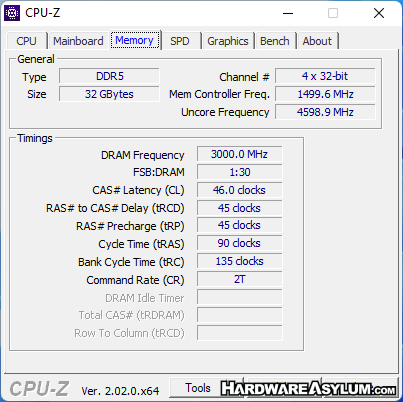 SiSoft Sandra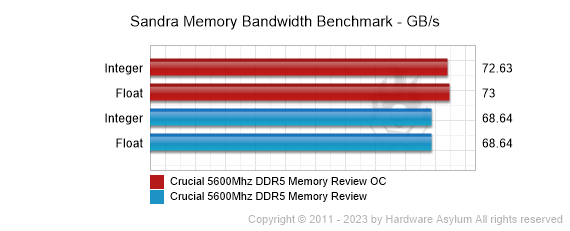 AIDA64 Extreme Edition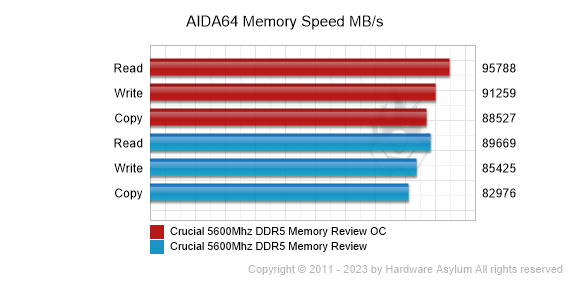 Unigine Heaven Benchmark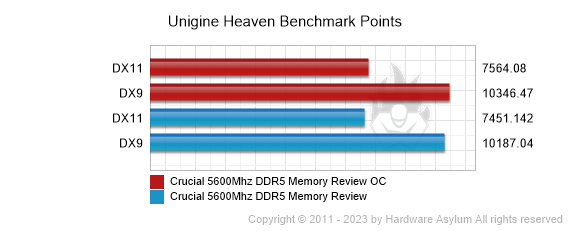 BAPCo SYSmark 25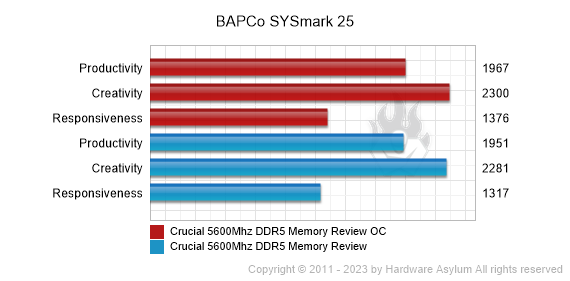 UL PCMark 10

Conclusion
Going into this review I didn't expect much from these Crucial modules. As mentioned, they are not intended for performance gaming machines as they lack fancy heat spreaders and operate pretty low on the frequency scale. That is when compared to modules from other memory makers.
Out of the box the new Crucial DDR5-5600 and DDR5-5200 memory modules feature a black PCBs and the 16GB versions featured in this review are single sided with the PMIC9 circuits located in the middle of the module. At no time during our benchmarks was there any indication of trouble nor did any component on the board get hot to the touch.
Given how efficient modern memory modules are you will be hard pressed to find any instance where a heat spreader is required until you get to the realm of overclocking where the combination of excessive voltage and frequency tend to have a negative effect.
In terms of performance the DDR5-5600Mhz module featured in this review worked extremely well with predictable results. Overall, the timings were higher than expected but, still offered a good level of performance up to the 6000Mhz limit we found during our overclocking tests.
The new DDR5-5200Mhz modules were not tested for this review but feature lower timings and are available in larger module densities making them a good choice for builds where memory capacity is more important than overall speed.
While I tend to focus on performance in my reviews there are only a few instances where overall memory speed makes a difference in modern DDR5 computer systems. As our BAPCo SYSMark results indicated the Creativity results benefited the most from faster memory due to image manipulation and video rendering while the other sections showed similar results. The overall score reflected this but only by a small margin. Likewise, the gaming benchmark showed no performance advantage for faster memory except in older DX9 gaming titles. Bottom line, faster memory with lower timings is best but, you aren't losing much by clicking things back a notch if you are budget constrained.
Good Things
Legendary Crucial Compatibility
Great Performance
Expanded Frequency Options
Bad Things
Higher timings
Limited frequency options
Hardware Asylum Rating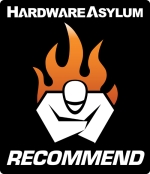 Crucial 5600Mhz DDR5 Memory Review
Recommend
https://www.hardwareasylum.com