HyperX Predator DDR4 3000Mhz CL15 Quad Channel Memory Review
Author:

Dennis Garcia
Published:
Wednesday, February 18, 2015

Introduction
When the new Haswell-E processor launched in 2014 it brought with it a new era in workstation class computing. As you may know most of the power comes from the new 8-core processor and enhanced memory controller but, none of that would be possible without a good set of memory to drive it all. Of course, all of the things we know about memory still apply. Faster frequencies mean more bandwidth and lower timings usually translate into lower latency and more performance.
In this review we will be looking at a very special DDR4 memory kit from HyperX called the Predator. These modules come in a variety of speeds ranging from 2133Mhz up to the current maximum at 3000Mhz. The modules featured in this review are rated at 3000Mhz with a latency of CAS 15 running at 1.35v. Timings and voltage are configurable by enabling one of the two XMP profiles and follow JEDEC standards if left in the default configuration.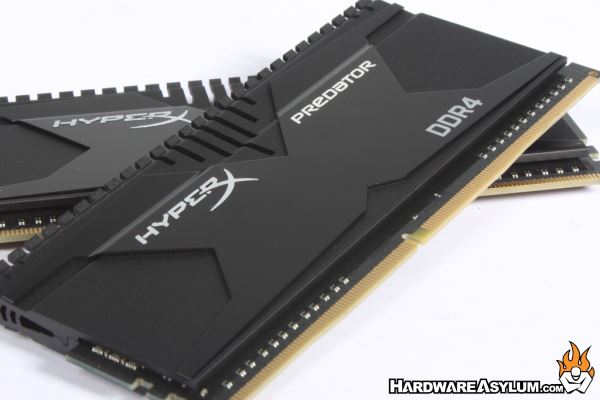 The HyperX Predator DDR4 modules are the second generation in the Predator series designed for the new X99 processor platform. These modules, both DDR3 and DDR4 are highly sought after by overclockers, not only for their out of box performance but, their ability to scale under cold. We've never actually run memory under LN2 but based on the results from the latest HyperX HOT overclocking competitions the numbers are quite impressive.
The New DDR4 Standard
As was mentioned before Haswell-E brings with it a new DDR memory standard designed to handle the memory demands of modern systems and the new processor architecture. It brings with it the promise of higher memory speeds at the expense of higher latencies. This isn't uncommon and when new memory modules launch it often takes awhile before we see latencies drop and speeds increase.
For instance when DDR2 and DDR3 launched many enthusiasts noted that the memory timings were more than double that of the previous generation and often ran at the same speed, if not slower. This translated into lower than expected memory performance however chip yields improved over time and with each new processor release came improved memory utilization and better overall performance.
Fortunately DDR4 has already proved it can be faster than DDR3 however many applications are not optimized to take advantage of the memory bandwidth since that has often been a major performance bottleneck. Instead these loads are sent to specialized hardware for processing leaving the main CPU to remain relatively idle even the rest of the system is under extreme load.
Despite these "growing pains" DDR4 brings with it many benefits such as a higher default speed of 2133Mhz and lower operating voltages of 1.2v. The DDR4 architecture also supports higher chip densities which may not sound like much on the desktop but in server environments memory is what makes things go fast and the more you have the better. Sadly, these Predator modules may not work U1 server configurations but they will look amazing in a high-end gaming rig surrounded by DIY watercooling loops and at least 2 video cards of your choice.