SilverStone SST-ES02-USB Wireless PC Remote Review
Author:

Darren McCain
Published:
Friday, July 07, 2017

Introduction
One of the unexpected benefits of working in the review industry is when a different and unique piece of hardware comes my way. The SilverStone ES02-USB Wireless PC Remote is definitely not something I was aware existed but I am definitely sold! This may be the best little device you don't know you need.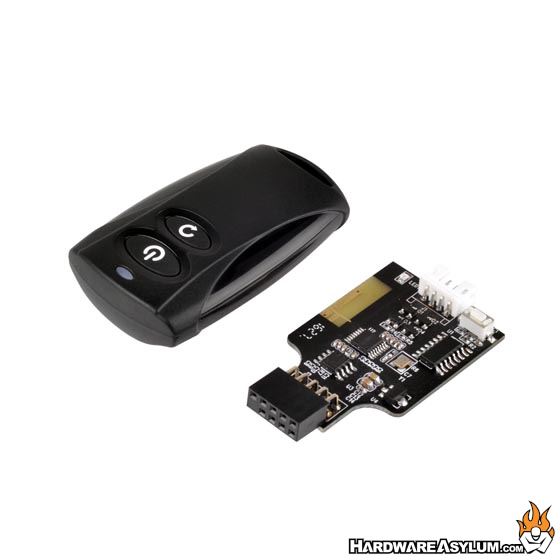 Simply put, the ES02-USB is a wireless PC power button. As you might expect from the model number, the ES02-USB is the second model in the line and utilizes your internal USB connection. The SST-ES01-PCIe offers the same functionality using an available PCIe slot if you prefer.
Features
Control your computer from anywhere in the room using 2.4GHz RF remote
2.4GHz receiver utilizing universal USB 9 pin male connector
Works as far away as twenty meters
Includes power / reset switch Y cable
Includes left and right angled USB adapters
Specifications
Model No.: SST-ES02-USB
Adapter card
Adapter form factor: USB 2.0 9 pin male connector x 1
Operation frequency: 2.4GHz
EIRP: 3.76dBm (Measured max.)
Operating range: 20 meter (Free space)
Operating temperature : 0?~40? (32?~104?)
Storage temperature : -40?~70? (-40?~158?)
Operating humidity : 10%~90% non-condensing
Storage humidity : 5%~90% non-condensing
Net Weight: 30g
Dimension: 30mm (W) x 10mm (H) x 60mm (D)
Remote control
Operation frequency: 2.4GHz
EIRP: 3.76dBm (Measured max)
Operating range: 20 meter (Free space)
Battery type: CR2032 (Lithium manganese button battery)
Nominal voltage: DC 3.0V
Battery environment:
Operating temperature : -20?~70? (-4?~158?)
Storage temperature : 10?~40?(50?~104?)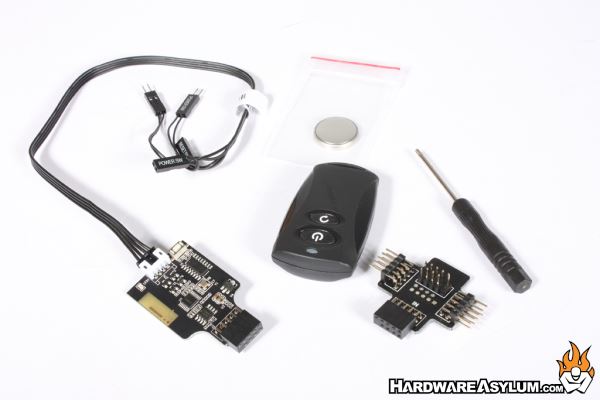 The ES02-USB kit consists of the wireless receiver, an optional 3-way angled USB 2.0 adapter, a small screwdriver, the remote controller, a battery and a simple instruction manual.
Looks simple enough!
Installation requires attaching the wireless receiver directly to an open USB 2.0 internal 9 pin connector on your motherboard as shown on the left here.
Don't worry if you are short on space. You can use the included adapter to change the orientation of the wireless receiver to match your system configuration.
If you wish to continue using your onboard power and reset buttons connect the included Y cable. If you want the PC to only have power functionality from the remote for added security, simple leave the cable off. I did find that I needed to enable the USB wake functionality in the BIOS before the power on function worked. Consult your motherboard manual if needed.
Install the included battery in the remote and power on the PC. Simple and effective!
Conclusion
I have always preferred my PC under my desk and that requires some occasional acrobatics to reach the power button. The SilverStone SST-ES02-USB Wireless PC Remote makes touching the PC a thing of the past. I can definitely see how this could be used with a home theater PC or when you want to store your PC out of sight. All that clutter can be hidden away and accessed via the remote!
I found the remote to be a pleasant security upgrade for LAN parties as well. No more worries about leaving the PC alone and the impression value of turning it on from across the room is pretty awesome as well. While this may not be for everyone it is definitely an inexpensive upgrade that will find a home in every future build for me!