SilverStone SST-LSB01 8-Port RGB Light Strip Control Box Review
Author:

Dennis Garcia
Published:
Saturday, August 26, 2017
Introduction
RGB LEDs are really hot right now. Motherboards have started coming with complete RGB lighting controllers, cases come with RGB fans, video cards have RGB backlighting and even memory modules can be found with RGB lights across the top. This is all great if you are building a new system where you can choose your level of RGB commitment. However, things get a little more complex when you are attempting to retrofit RGB lights into an existing build and while the concept is straight forward the actual execution can be rather complex.
In this review I'll be looking at the SilverStone LSB01. This is an 8-port RGB light strip control box that makes adding RGB lights to ANY build super easy.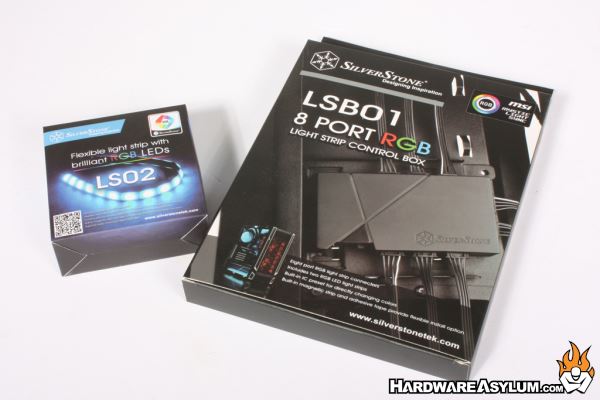 The LSB01 controller supports up to 8 RGB LED light strips and can either be run standalone allowing you to quickly switch between several predefined color settings. Or, it can be added to an existing controller to expand the level of RGB lights and have. Those lights can then be synchronized with the rest of your system.
In the box you get the SilverStone LSB01 control box. This box is a little over three inches long (85mm) and just about two inches wide (46mm) which allows it to be installed almost anywhere inside your case. The base of the controller is also magnetic making installation super easy. Sadly owners of aluminum cases may need to break out the Velcro but that is a small price to pay for RGB LEDs.
Each LSB01 control box comes with two SilverStone lighting strips. These strips feature a translucent white cover to help defuse and blend the LED lights. They can be mounted using either magnets or with the pre-applied double stick tape, simply peal and stick.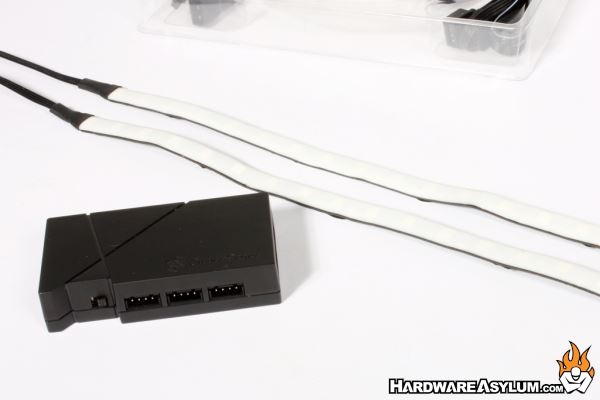 Installation and Usage
I have tried using the SilverStone LSB01 in a several different situations. The first is on an open test bench which makes everything easier. You can route the lights wherever you want and with the magnetic base everything stays where it should.
My system is the Gigabyte AX370 Gaming 5 using the Gigabyte Fusion lighting controller. Fusion is a RGBW controller allowing you to have a dedicated white channel along with the RGB. The LSB01 is only RGB enabled which may seem problematic until you realize that you aren't required to hook up the White pin.
Cooler rendering is very good and when hooked to the motherboard controller is synchronized quite well.
Of course the real power of the SilverStone LSB01 is that you can get RGB lights into systems that do not have a RGB controller. For this you simply provide power to the LSB01 and use your reset button to change the color.
I did find that the leads on the RGB light strips were pretty short making the use of the included Y adaptors a requirement. Each Y adaptor comes with two ends, one for the SilverStone lights and the other for a standard RGB LED strip allowing you to use additional LED strips as needed.
Conclusion
As with many aftermarket modding parts an 8-port RGB Light Strip control box has a very limited market but, with a huge benefit to people who need them. For users looking to add RGB lights to an existing their system a product like the SilverStone LSB01 is a must have. You get easy installation and the option to have multiple lights added at once. The controller and light strips are both magnetic giving you the option to move them around without too much hassle.
For users that already have RGB LED the SilverStone LSB01 is a great way to expand your lighting control and still have everything synchronized with whatever controller and/or software they are currently using.
Good Things
Supports 8 RGB LED Strips
Stand Alone Controller
Ability to Sync with Existing Controllers
Magnetic Base and LED Strips
Bad Things
LED strip leads are short
Extra power can only be used in standalone mode
No wireless remote
Available Images