Foxconn P67A-S Motherboard Review
Foxconn P67A-S Motherboard Review
Author:

Dennis Garcia
Published:
Friday, January 07, 2011
Introduction
New processor launches are an exciting thing, not only to they put new technology into our hands but almost always mark the beginning of a new wave of motherboards to test, tune and abuse. On the lowest level the new Sandy Bridge processor is basically a technology refresh of the previous Lynnfield design that brings with it a new socket configuration and thus incompatible with previous P55 motherboards.

The Intel P67 shares many of the same features found on the P55. All of the primary PCI Express lanes are derived from the processor and the chipset is still a single chip design. So, on the surface the chipsets are almost identical. This of course begs the question, why the change?. Well it comes down to a major revamp in processor architecture and how it determines how fast it will go. Instead of using BCLK to determine processor and system speed you will be dealing with multipliers, memory clock dividers, and micro changes to BCLK.

In this review we will be looking at the P67A-S motherboard from Foxconn. This is a P67 based motherboard designed for the new Sandy Bridge 1155 processor platform. As many of you know Foxconn has 2 basic product lines in their channel sales division. The enthusiast products all fall under the Quantum Force name like the Bloodrage, Inferno Katana while the mainstream and OEM products. Like this one, tend to feature considerably less "stuff" and are devoid of fancy brand names.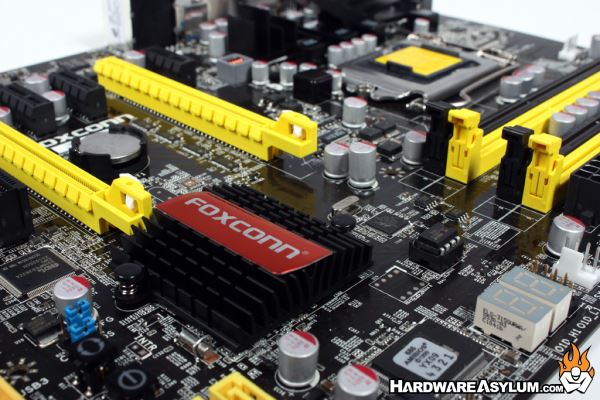 The first thing you may notice is how bare this motherboard looks when compared to some of the other boards we have reviewed. This lack of components is one of the benefits to the new Intel processors and also helps to keep prices low on mainstream gear while still delivering the same features and performance you would expect. As you look around the board you may notice a few things that seem out of place on a mainstream motherboard, we will touch on some of those in the following sections.