Cooler Master MasterWatt Bronze 650
Cooler Master MasterWatt Bronze 650
Author:

Dennis Garcia
Published:
Tuesday, October 17, 2017

Introduction
The funny thing about building a computer is that there are times when you simply do not need the best of something. That is a difficult thing to say for a reviewer who tests with $1000 USD processors on high-end motherboards but, I know the majority of novice builders, first timers and budget builders are more concerned with "bang for your buck" than raw performance.
Because of this I see may builds that feature some pretty high-end hardware matched with some low dollar components. I suspect someone on reddit claimed it was good or was simply how they were able to make budget work. There isn't anything wrong with that provided that what is picked is properly sized for the build.
The biggest offender is PSU and more often than not the builder is told their minimum wattage and has set out to buy whatever is cheapest. Not least expensive but flat out, bottom dollar, cheap.
In a strange bit of irony Cooler Master, makers of the most popular, best selling, pretty darn good and cheapest CPU cooler featured in every system build on reddit is set to match the famous Hyper 212 with the MasterWatt Bronze series PSU. As Cooler Master puts it, in a world where a 94% efficient PSUs are "easy" why bother building a PSU that is only 85% efficient or, in this case 80 Plus Bronze.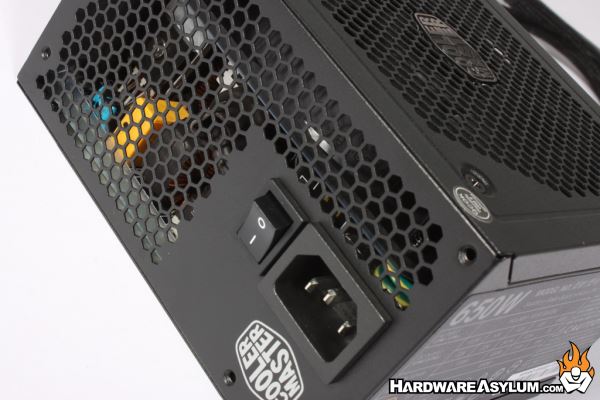 Well, the answer is rather simple, Not everyone is looking for the best efficiency at any cost. Or, to put it another way, they realize that affording a "good" PSU might cost more than the entire build so lets fix that.
To help provide some value add to an otherwise inexpensive PSU Cooler Master has built in a few rather amazing features including excellent ripple noise output, great voltage stability and a semi-fanless mode for when the PSU is under 15% loading (aka most of the time) the fan will shut off completely to reduce overall noise output.
Of course when the PSU is under load a Cooler Master Silencio FP fan is used to cool the internal circuits. The fan design resembles the Master Fan Air Pressure with a very wide and sweeping blade pattern to ensure that any air drawn into the PSU is used for cooling to maintain an overall silent noise footprint.
As you may expect from an inexpensive PSU there are some compromises. The main 24pin and 8pin power cables are hardwired to the PSU and feature a typical wire bundle and plastic sleeving.
Accessory cables number three and feature two SATA power cables with four plugs per cable. Three of the plugs are perpendicular to the power cable while the last is actually straight.
The third accessory cable is very versatile featuring a small floppy style Molex connector, three four pin Molex connectors and a single SATA power connector all on the same wire. As you may notice from the photo the fifth wire for the SATA connector stops at the SATA plug. This allows the four required wires for Molex to continue on.
The final pair of wires are dedicated for PCI Express power with two 8pin connectors on each cable. Given the recent decree that NVIDIA will only support dual card SLI with Pascal there is very little reason to include more than two PCI Express power cables anymore.
Conclusion
The Cooler Master MasterWatt Bronze 650W PSU fills a very common niche in the system building world. It pains me to say this but, not everyone needs the highest quality components. There are plenty of builders out there looking for whatever comes up first when sorting by price and Cooler Master wants to make sure you are getting a quality product in the process.
Their semi fanless design ensures that the PSU will remain silent under low wattage loads. However, you have to consider the 80 Plus Bronze rating and simply know that the fan will come on under normal usage. This is where the Cooler Master Silencio FP fan comes in to keep overall noise down while offering a nominal 160k hours of operation.
Personally I find the compact design to be a major win allowing the MasterWatt Bronze to be a good upgrade option for old OEM systems that need a PSU upgrade which simply cannot accept one of the larger form factors. Of course the amount of modular connections will limit what you can and cannot hook up to the PSU. However, let's face it, if you have 10 storage drives and two video cards you need to really consider consolidating your storage system and size your power supply accordingly.