Cooler Master MWE Gold 750 Power Supply Review
Cooler Master MWE Gold 750 Power Supply Review
Author:

Dennis Garcia
Published:
Tuesday, February 26, 2019

Introduction
Building a computer can be a daunting task. One side you have your budget, this is what drives the entire project and also what can make or break your build. Personally I have never liked the process of picking the cheapest parts for the sake of them being inexpensive. That just is not the way to get a quality build. Sure, there are some gems in budget land but more often than not you'll get what you pay for. Likewise overspending is just painful however, that is a different problem.
When it comes to power supplies there are a few things to consider. First and foremost select the power range best for your build. If you are putting together a high-end SLI rig using a 12 core CPU with 30 hard drives there is a good chance a 600w PSU isn't going to cut it. Likewise you don't need a 1200w Platinum to run a Rasberry Pi. So, what is the right range? Ironically the magical number as the perfect size for ANY mainstream and gaming build is between 600w and 800w.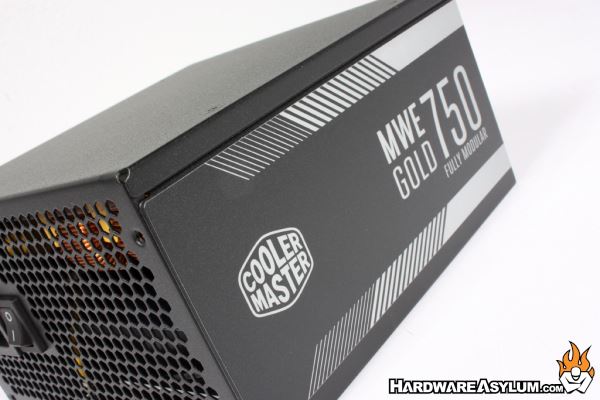 The next thing to look for is the 80 Plus rating. As many of you know the 80 Plus rating is for power efficiency and is another way to further determine the quality of a PSU using independent standardized testing. The basic idea is that power supplies have an optimal range to work efficiently and when you exceed that range the power efficiency drops, things heat up and power delivery "could" become unstable.
In this review we'll be looking at the new Cooler Master MWE 750 Gold. This is a fully modular 750w PSU with a 80 Plus Gold rating. The Gold rating means that the PSU is at least 90% power efficient when operating at 50% load allowing it to deliver more power to your system while producing less heat.
A fully modular PSU indicates that every cable can be removed from the PSU. This can really help when it comes to building a PC and figuring out where to hide all the cables. Simply remove the cables you aren't using and one less cable to route making cable management a breeze. Of course if you happen to upgrade your build and need another cable, pull it out of storage and away you go.
Any good power supply will come with a power switch. This allows you to completely turn off your PC when it is no longer in use and is just as effective as pulling the cable from the wall.
It also gives you a way to quickly disable your build if you have some catastrophic failure like having a hardline tube blow off at a LAN party right before your tournament is about to start. *yikes*
Even though the MWE 750 is Gold rated there is still a need to have a cooling device. For this Cooler Master has included a 120mm Silencio fan based on their MasterFan Pro Air Pressure edition. The motor is different but the fan blade profile is identical and features a sealed LDB bearing and Silencio Technology for longer life and reduced noise.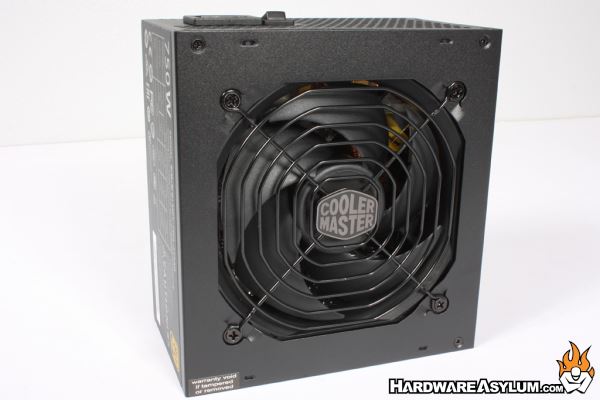 Of course every PSU is only as good as its cables. With the Cooler Master MWE 750 you get everything shown below which includes
1x 24-pin (20+4) main power cable which is 610mm long (24 inches)
1x 8-pin (4+4) CPU power cable which is 650mm long (25 inches)
If you are building a system that requires two 8-pin power connectors this will not be the PSU for you.
Other cables include:
Two PCI Express cables with two 8-pin (6+2) connectors at 720mm long (28 Inches) . These cables can power two video cards with dual power connectors each. If you happen to be lucky enough to be running an EVGA KPE or MSI Lightning with three power sockets you'll be limited to one card.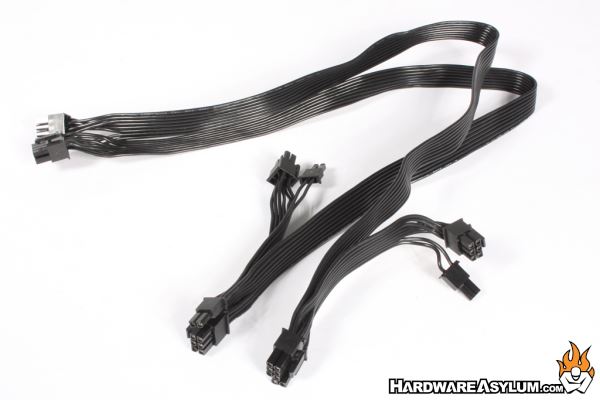 The final two cable sets are for your drives. You'll get two SATA based cables with four connectors each and two Molex based cables with three connectors each. One will have a mini molex plug. This would have been used for your 3.5" floppy drive back in the day.
Both cables are 760mm long or 30 inches for us Americans.
Conclusion
The Cooler Master MWE 750W Gold fills a very common niche in the system building world that many system builders do not take advantage of. For instance buying a gold PSU over a Bronze or Silver offers more than better power efficiency as it will also reduce noise while drawing less power overall. Of course you will pay a little more but can also get away with adding more components to your build.
To a certain point.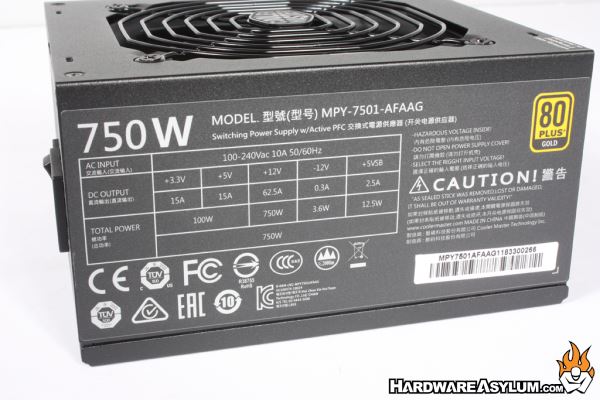 Currently the 750w Gold featured in this review is the highest wattage PSU in the Cooler Master MWE lineup with modular versions being available down to 550w. Of course if you are against modular cables the same PSU can be purchased with hardwired cables and is otherwise identical. Speaking of cables the MWE features flat ribbon style cables for everything except the main 24-pin power wire. Given that it is also the shortest cable and easily hidden I'm not too bothered by this. Personally I find ribbon style cables easiest to route but, can also offer unique challenges when they overlap behind the motherboard tray.
PSU cooling is handled by a Cooler Master Silencio FP fan that is designed to keep overall noise down while offering a nominal 160k hours of operation. The fan blades are modeled after the MasterFan Pro Air Pressure fan offering optimal airflow without the need for excessive rotation.
One nice thing about the 80 Plus Gold design is that the form factor can be kept small. The Cooler Master MWE 750 measures 160mm x 150mm keeping it within the current "mid-sized" form factor. The smaller size allows it to be installed in smaller cases with limited space and doesn't require a large fan to keep cool. The modular cable design helps with cable management and can support more devices when compared with the older MWE Bronze edition PSUs at the same wattage.
Be sure to check out Cooler Master for more information and click on this Amazon link if you are curious about price and/or want to pick one up for yourself