Thermaltake Dr Power II PSU Tester Review
Thermaltake Dr Power II PSU Tester Review
Author:

Dennis Garcia
Published:
Tuesday, December 06, 2011

Introduction
It doesn't happen very often but when a power supply fails you often unaware that anything is wrong until it is too late. This can be especially troubling when you are left troubleshooting random lockups or system crashes and can't tell what the problem is. For issues like this it is sometimes best to "chase the power" and make sure your power supply is operating correctly.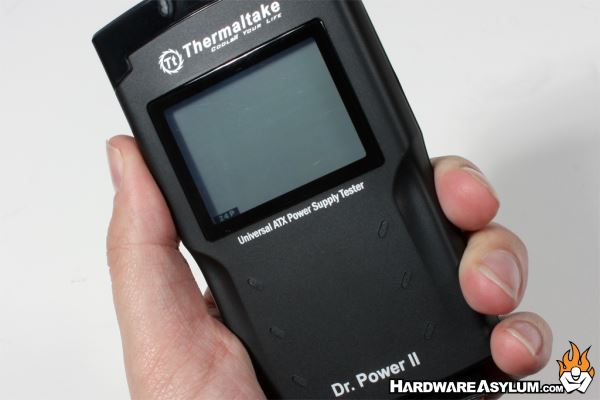 In this review we will be looking at the Thermaltake Dr. Power II PSU tester. Unlike some of the more traditional testers the Dr. Power II features a LCD digital read out and shows you exactly what is coming from the PSU.
Dr. Power is not a particularly small device measuring in at 5" x 3" x 1" (L x W x H) with about half of the device consumed by the LCD display. All of the modern power connectors are accounted for with the main 24pin ATX power connector located at the bottom.

Across the top you will find a single PCI Express 8pin connector, an 8pin 12v CPU connector, 4pin Molex and single SATA power connector.
Features
Designed from the ground-up to support every ATX power supply available today up to ATX12V v2.3.
Oversized LCD panel that accurately shows the value of each specific power rails (within one-tenth of a volt).
Accurate voltage indicating for +12V/+5V/+3.3V/5VSB/-12V.
Built-in output connectors diagnostic system, low-voltage, high-voltage, no voltage, PG alarm systems.
Easily troubleshoots system failure due to unstable power supply.
Built-in alarm system to identify user when the power supply demonstrates abnormal characteristic.
Testing
There are two ways to test a PSU using Dr. Power II. The first is automated and accessible by pressing the Check button for more than 5 seconds. This will cycle thru the various power connections and test each one for proper voltage.

If you prefer a more manual approach simply press the Check button to start your test and keep pressing to cycle thru the available screens.

We discovered that the Dr. Power II is quite accurate in terms of voltage and will run the system for about a minute before powering down. Sadly all of our bad power supplies had already gone to the recycler but had our tests failed or dropped below the acceptable range the normally blue screen would switch red and alarms would sound.

Conclusion
There are all kinds of power supply failures and while most end with the PSU destroyed thru a mix of sparks and smoke the others can be a little more difficult to detect. Using a device like the Thermaltake Dr Power II will not only help streamline the testing process but also allow you to test each rail independently and determine exactly what is wrong.