Thermaltake Toughpower PF3 1050w Modular Power Supply Review
Thermaltake Toughpower PF3 1050w Modular Power Supply Review
Author:

Dennis Garcia
Published:
Friday, November 3, 2023

Introduction
In 2011 I reviewed a Thermaltake power supply called the Toughpower Grand. This PSU was rated at 1050w, had rounded corners and featured an 80 Plus Gold rating. What made this power supply special is that it was designed during the time when multi-GPU systems were popular and when overclocking favored partially modular PSUs where the main power harness was still fully hardwired.
The older Toughpower Grand 1050w was also fairly innovative by supporting the Intel Sandy Bridge processor, zero load mode graphics and the Intel C6 State power mode with all designed to promote more power efficiency. Of course, those features are all ancient history by now and while the TT Grand 1050w is over 12 years old it had been a permanent fixture on the Ninjalane and Hardware Asylum test bench for every hardware review, several overclocking sessions and a multitude of public appearances.
It wasn't so much the technology that I found important but rather stability, modular cable options and, the power plugs.
Yes, you read that correctly, I kept using this PSU all these years because the plugs and cables were easy to use, routed well on my test bench and provided everything I needed to run a quality system.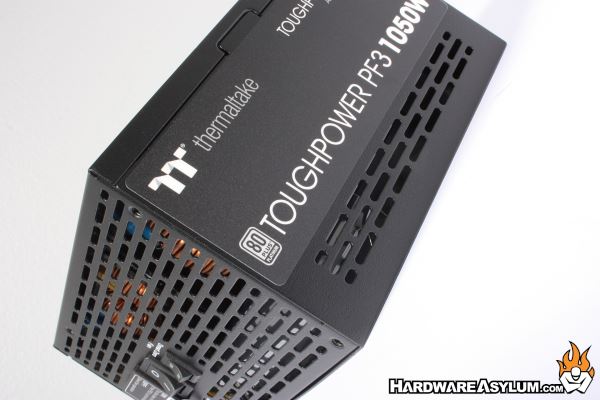 In this review I will be looking at the Toughpower PF3 1050w PSU from Thermaltake. We have reviewed a number of Thermaltake power supplies including an RGB enabled "Grand", a few 1000w GF1 models and several PSUs "off the books" that have been featured in builds and various giveaways.
The Toughpower PF3 is an 80 Plus Platinum rated PSU featuring a fully modular cable system supporting both ATX 3.0 and PCI Express Gen5 design standards. You will find the Toughpower PF3 with capacities ranging from 750w up to 1200w and all feature the same modular cable configuration.
Specifications
P/N: PS-TPD-1050FNFAPU-L
Model: TPD-1050AH2FLP
Type: 1050W
Watts: 1050W
Color: Black
Dimensions: 140mm(W)x86mm(H)x150mm(D)
PFC (Power Factor Correction): Active PFC
Power Good Signal: 100-150 msec
Hold Up Time: > 17msec
Input Current: 16A-8A
Input Frequency Range: 50Hz/60Hz
Input Voltage: 100-240V~
Operating Temperture: +5°C to +40°C
Operating Humidity: 20% to 85%,non-condensing
Storage Temperture: -40°C to + 55°C
Storage Humidity: 10% to 95%, non-condensing
Cooling System: 12cm FDB Fan
Efficiency: Meet 80 PLUS Platinum at 115Vac input.
MTBF: 100,000 hrs minimum
Safety Approval: FCC/ICES/CB/cTUVus
PCI-E 6+2PIN: 5
PCI-E 12+4PIN: 1