Gigabyte GTX 750 Ti Video Card Review
Author:

Dennis Garcia
Published:
Friday, March 21, 2014

Introduction
Graphics cards are an interesting thing in that they can make or break your gaming performance and happen to be very confusing when it comes to buying them. It isn't that they are difficult to acquire but rather people don't understand what they are getting. Around here we often prefer the cards that give us the best performance and don't mind if they cost a few extra bux. As a result we tend to look beyond things like power consumption or noise profiles in favor of more processing power.
As a result we figure anyone interested in this product is likely doing a custom build with a boutique builder like CyberPowerPC and is asking themselves "WTH is this card and why should I choose it?"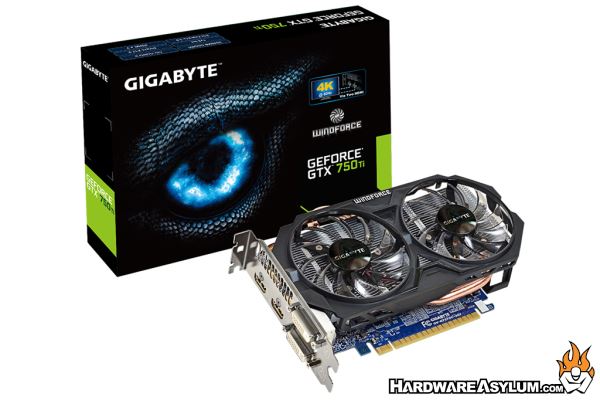 In this review we will be looking at the Gigabyte GTX 750 Ti graphics card. The GPU on this card is rather unique in that it is designed to deliver 25% better performance at double the power efficiency when compared to the GTX 650 Ti. To accomplish this NVidia has come up with a new GPU architecture and so far it looks pretty good. This GTX 750 Ti from Gigabyte comes with 2GB of video ram, custom Windforce cooler and slight overclock from the factory.
Specifications
CUDA Cores 640
Base Clock 1033 MHz
Boost Clock 1111 MHz
Memory Clock 5400 MHz
Total Video Memory 2GB GDDR5
Memory Interface 128-bit
Fabrication Process 28 nm
There are a few key differences between the Kepler and Maxwell GPU cores with the largest being power efficiency. If you happen to find a map of the GPU you will find it is very similar to Kepler but with less CUDA cores per SMM/SMX which, in turn, places more controllers on the chip. More control means better power efficiency both in consumption and game performance. The Maxwell architecture also puts more emphasis on combining the desktop and mobile GPUs into a single product line. By doing so Nvidia is able to market their chips to more segments without the need of maintaining separate product lines.
One thing we have noticed is that while Fermi and Kepler both launched with high-end products Maxwell launched at the bottom. Given the superior performance of the current 700 series cards (780, 770 etc) and no real competition we can assume that Maxwell will remain in the low-end for awhile until current Kepler GPUs either become scarce or become challenged. *hint hint AMD*