Gigabyte GTX 760 OC Video Card Review
Author:

Darren McCain
Published:
Tuesday, June 25, 2013

Introduction
With both a high end and a mid-range GTX 700 series card already striking fear into the competition we knew the mainstream GTX 700 series cars were coming. The question was just where would the latest offerings fit in the big picture. Today we finally get a look at the NVIDIA GeForce GTX 760. And not just any old GTX 760, we will be looking at the GeForce GTX 760 OC Version from Gigabyte.

The GTX 760 shares the same Kepler GK104 architecture found in both the GTX 770 and carried over from the GTX 680. The GTX 760 ships with 6 SMX units and 1152 CUDA Cores where the GTX 770 had 8 SMX and 1536 CUDA cores. For memory our 760 has 2 GB of GDDR5 memory using the same 6 GB clock rated memory architecture as the GTX 680. Based on the anticipated pricing and tier structure, it's safe to say the GTX 760 has the Radeon HD7950 firmly in the crosshairs.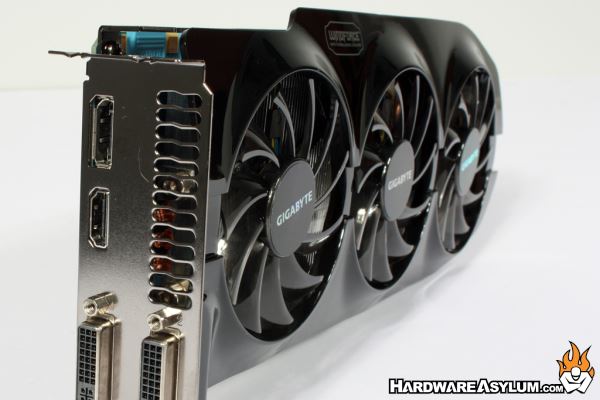 Processing Units
Graphics Processing Clusters 3 or 4
Streaming Multiprocessors 6
CUDA Cores 1152
Texture Units 96
ROP Units 32

Clock Speeds
Base Clock 1085Mhz (stock 980 MHz)
Boost Clock 1150 (stock 1033 MHz )
Memory Clock (Data rate) 6008 MHz
L2 Cache Size 512KB

Memory
Total Video Memory 2048MB GDDR5
Memory Interface 256-bit
Total Memory Bandwidth 192.26 GB/s
Texture Filtering Rate (Bilinear) 94.1 GigaTexels/sec

Physical
Fabrication Process 28 nm
Transistor Count 3.54 Billion
Connectors 2 x Dual-Link DVI 1 x HDMI 1 x DisplayPort
Form Factor Dual Slot
Power Connectors Two 6-pin
Recommended Power Supply 500 Watts
Thermal Design Power (TDP) 170 Watts
Thermal Threshold 95° C

NVIDIA has positioned the GTX 760 as a replacement for the GeForce GTX 660 Ti. Sadly the GTX 760 will also be the last of the 700 series for the remainder of 2013, at least according to the latest NVIDIA roadmap. That leaves many of the lower end 600 series (like the GTX 660 and GTX 650) available for the budget conscious buyers and the GTX 690 or the Titan for the top end enthusiasts.

Like the GTX 770 we can probably call the GTX 760 another GK104 refresh. This time we are looking at a refresh of the GTX 670 with faster memory and more total memory bandwidth. Thanks to faster Clock and Boost speeds coupled with Boost 2.0 and adaptive temperature control the GTX 760 is not only faster it's also noticeably quieter.