Nvidia GeForce GTX 980 Ti Video Card Preview
Author:

Dennis Garcia
Published:
Sunday, May 31, 2015

Introduction
For the first time in many years NVIDIA is launching a new GPU at the famed Computex show in Taipei Taiwan. The new GPU, the GTX 980 Ti will become the new retail flagship for NVIDIA replacing the current GTX 980 and brings with it a focus on 4K gaming performance, DX 12 performance and feature support and Gameworks VR.
GEFORCE GTX 980 Ti: THE NEW FLAGSHIP
The GeForce GTX 980 Ti is based on the GM200 GPU. Comprised of 8 billion transistors, GM200 is the most powerful GPU nvidia has ever built and the heart of the TitanX.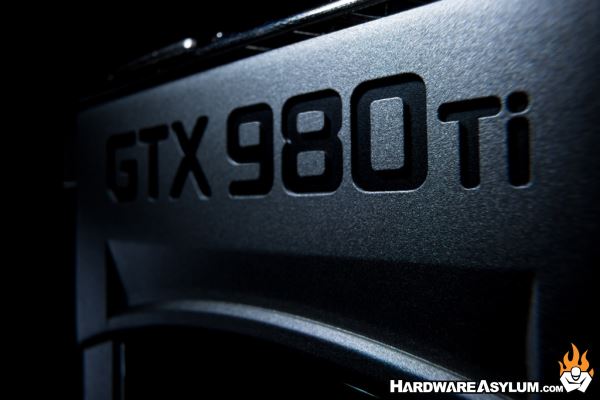 The GM200 GPU used in the GeForce GTX 980 Ti ships with 22 SM units and is composed of 2816 CUDA Cores, while 176 texture units are available for texture processing. Compared to the GeForce GTX 980, this is 38% more CUDA Cores and texture units. The GeForce GTX 980 Ti runs at a base clock frequency of 1000MHz, while the boost clock speed is 1075MHz. The integrated boost clock scales based on a power target and GPU temperature so actual GPU scaling can vary depending on your environmental conditions.
The GeForce GTX 980 Ti ships with a 384-bit memory interface running at 7GHz effective memory clock. Peak memory bandwidth is 50% higher than GTX 980 at 336.5GB/sec and nvidia has equipped the GeForce GTX 980 Ti with 6GB of GDDR5 memory. GM200 also ships with 3MB of L2 cache and 96 ROPs.
While all of those numbers are impressive NVIDIA claims that the new GeForce GTX 980 Ti is 3X faster than the GeForce GTX 680, and up to 65% faster than the GeForce GTX 780 Ti. Also given the 6GB memory frame buffer the GPU can scale faster as screen resolution increases making it a perfect match for 4K gaming with details set to maximum.
Like most high-end GPUs the GeForce GTX 980 Ti also supports SLI for even greater performance and unlike for mentioned high-end cards like the GTX 780 Ti and GTX 680 the 980 Ti scales better with an average boost of 80% in most DX11 games. Normally this kind of scaling is reserved for mid-range cards with lower performance ceilings.
Specifications
Processing Units
Graphics Processing Clusters 6
Streaming Multiprocessors 22
CUDA Cores 2816
Texture Units 176
ROP Units 96

Clock Speeds
Base Clock 1000 MHz
Boost Clock 1075 MHz
Memory Clock (Data rate) 3505 MHz
L2 Cache Size 3072K

Memory
Total Video Memory 6144MB GDDR5
Memory Interface 384-bit
Total Memory Bandwidth 336.5 GB/s
Texture Filtering Rate (Bilinear) 176 GigaTexels/sec

Physical
Fabrication Process 28 nm
Transistor Count 8 Billion
Connectors 3 x DisplayPort / 1x Dual-Link DVI / 1 x HDMI
Form Factor Dual Slot
Power Connectors One 8-pin and one 6-pin
Recommended Power Supply 600 Watts
Thermal Design Power (TDP)1 250 Watts
Thermal Threshold 92° C