Consumer Electronics Show 2013 - Silverstone
Author:

Dennis Garcia
Published:
Friday, January 18, 2013
Silverstone Chassis and Stuff
I really enjoy visiting with Silverstone, their product selection is always great and every year they usually have some super secret project to unveil. Silverstone was located in the LVH
(Las Vegas Hotel)
next to the convention center. Unlike heading to the Venetian there are exhibits to see along the way and you are protected from the weather while you walk. As luck would have it, I had two meetings in the same hotel making travel time much more enjoyable.
Many of the cases on display were also shown at Computex 2012 and If you'd like to see that coverage check out the following links.
Show coverage in the Blog section
and the famed
Silverstone office visit in the article section
. The first case on this list is the new Fortress 4 that features an inverted motherboard placement, front mounted fans and compact chassis design.
Next to the Fortress is the new Raven 4 which is nearly identical to the Fortress with a few key distinctions. The raven chassis features an open cooling design that allows you to see the front grill thru the door. The Fortress is designed to provide better airflow and features high powered 180mm fans, fine mesh grills and side vents on the door to hide everything from view.

Not to be outdone by big chassis designs Silverstone was showing a monster of a case they call the Mammoth. Much like the ancient mammoth this case is designed for harsh environments and even features an industrial grade HEPA filter and two high powered 180mm case fans.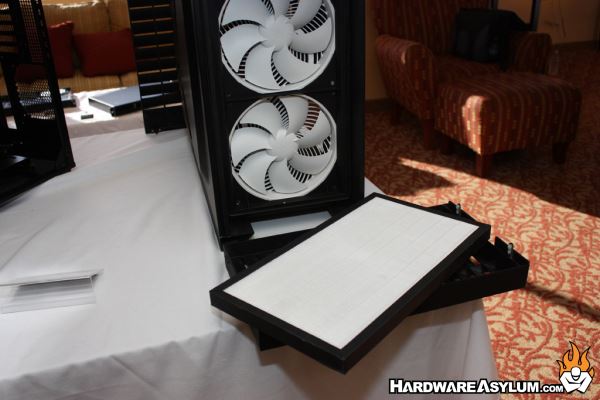 The applications for something like this are fairly limited but one thing is for sure, dust inside your chassis will not be a problem anymore.

Be sure to check out the gallery of images below for an enlarged version and some details about what you are looking at.
Available Images