Consumer Electronics Show 2014 HypeX OC Event
Author:

Dennis Garcia
Published:
Wednesday, January 29, 2014
Introduction
Late in 2013 Kingston hosted an overclocking competition on HWBot called HOT or the HyperX Overclocking Takeover. The purpose of the competition was to to pick five overclockers who would attend the finals held during CES 2014.
There as a total of $10,000 on the line. $5000 going to first place, $3000 going to second and $2000 going to third. To keep things interesting Kingston also offered up $1000 bounty prizes to anyone who broke a world record during the event.
By November the five finalists were picked with Splave.ROM taking the number one seed. He was followed by Xtreme Addict, DFORDOG, Vivi, and l0ud_sil3nc3. The finals were staged exactly like the qualifier with the benchmark selection designed to highlight Kingston HyperX memory.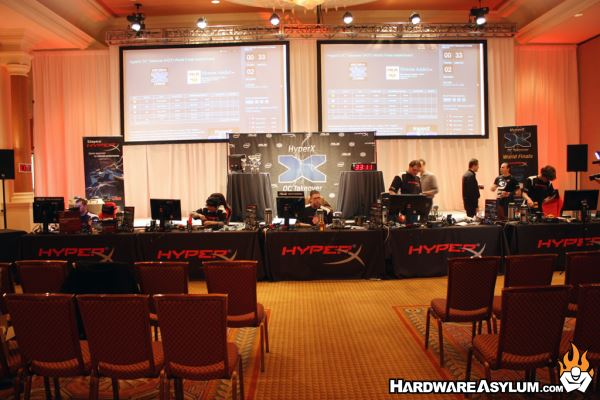 The stages included
Memory Frequency
SuperPi 32M
Intel XTU
The event was setup like a eSports gaming venue where the competitors were staged at the front of the room facing the audience with a scoreboard and stage behind them. Each stage was timed giving them a finite time to complete their benchmarks and get setup for the next stage.
I was surprised to see that every benchmark had a different configuration. For instance for Memory Frequency the overclockers would put memory under LN2 but when it came to SuperPi 32M many ditched the memory pots and concentrated on keeping the system stable.
Overall the competition was slow and while the overclockers were working hard to make their numbers there were actually very few scores being submitted. I suspect this was due to the limited number of overclockers in the competition and their knowledge of what was needed to be competitive.
In the end the scores were all extremely close. The final scoreboard can be found on HWBot or by following the link.
First Place: Xtreme Addict
Second Place: Vivi
Third Place: l0ud_sil3nc3
Forth Place: Splace.ROM
Fifth Place: DFORDOG
Splave was actually doing really well going into the Intel XTU stage but had stability issues midway thru the SuperPi 32m and may have had an impact. Xtreme Addict was strong throughout the entire event and put up scores early. After that he would basically idle thru the remainder of the stage.
The first ever HyperX OC Event, not the last,
Kingston has been making a move into hosting eSports gaming tournaments and the organization of the HyperX OC Takeover is a reflection of that experience. Live overclocking has a long way to go if it is to compete with eSports gaming but events like this are solid stepping stones into the right direction. Eventually I would like to see live commentators analyzing strategy and calling out benchmark scores. Something like that would really give quality to a livestream and make a live competition a little more exciting (if that is possible). Of course, until that happens we'll have to do our best to support the hobby and help define its future.
Available Images