Consumer Electronics Show 2014 Silverstone Visit
Author:

Dennis Garcia
Published:
Thursday, January 09, 2014
Introduction
The hardware giveaway this month features a custom painted Raven 2 and it is hard to imagine that the Raven 2 has been around for over 5 years and is still a viable chassis solution. Silverstone was showing the next generation of Raven chassis designs including the new Raven 5 and Raven RZ01.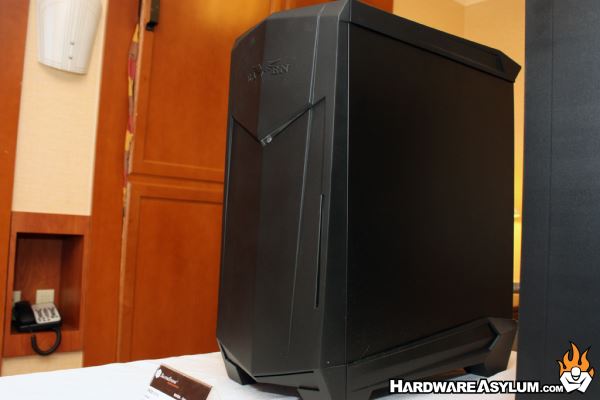 Raven 5 is a very interesting chassis design that goes back to the rotated motherboard position and bottom mounted fans. The unique feature of this case is that Silverstone has removed the external 5.25" drive bays and is giving you two internal 3.5 bays for hard drives.
AP 181 Fans are located at the bottom of the case and are covered by a mesh type fan filter. Cables exit out the top and are covered by a similar grill pattern.
Raven RZ01 is the small form factor Raven chassis designed for MiniITX motherboards and comes with a riser card so you can install extended height graphics cards at lengths that rival the GTX Titan. The video card mount removes as one piece making installation extremely simple.
The case fits a Silverstone SFX power supply and is cooled by three 120mm x 15mm case fans. The new slim 120mm fans are a new addition for Silverstone and will be available for retail purchase.
Available Images