Consumer Electronics Show 2016 Gigabyte
Author:

Dennis Garcia
Published:
Friday, January 15, 2016

Introduction
Gigabyte had a really cool meeting room setup this year. As you walked in they had the normal meeting area setup with many of the new and existing products on display nearby. In the center of the room was a broadcast station hosted by Hicookie doing a live overclocking show, both for people in the meeting room and online via their live broadcast.
I didn't get to spend much time watching the overclocking show but did get to see some of the new products Gigabyte will have in 2016.
The first, and maybe most exciting is their new line of high performance video cards, amply named Xtreme . This new line of video cards will reside above the existing gaming line and will feature faster overclocks and a new RGB lighted triple fan cooler.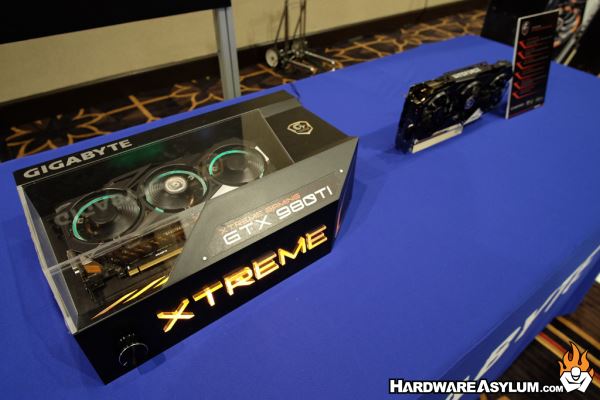 I was told the two outer fans will spin the normal direction with the center fan spinning in reverse. It is a little unclear as to the purpose of the fan reversal however I suspect it will combat positive air pressure by pulling exhaust back through the heatsink. Or could be noise control, either way I'm looking forward to trying it out for myself.
The new motherboards on display remind me of the glory days of the AMD Opteron when we could game and overclock with server grade processors. Of course these days mixing server and retail parts is unheard of, until now. Gigabyte was showing a new line of gaming motherboards built using server grade chipsets and packed with gaming features you would normally find on the Gaming G1 motherboards.
These boards are part of the X170-Gaming line and include the Gigabyte upgraded audio, Killer Networks Ethernet, USB 3.1 and M.2 PCI Express slots. Basically all the stuff you would find on a gaming motherboard running on a workstation class hardware. In terms of outward appearance the motherboards feature desert camouflage with the same heatsink and component placement you would find in the Gaming G1.
Sadly there is no K sku in the Xeon family so you won't be able to overclock with these however they will feature the Turbo BCLK chip for minor adjustments in Base Clock frequency. Of course, with that being said the majorly of gamers are concerned with having a stable and powerful system and rarely concern themselves with CPU overclocking making the new X170-Gaming a perfect match.