New Creative BlasterX Sound Solutions at CES 2017
Author:

Dennis Garcia
Published:
Wednesday, January 18, 2017

Introduction
Anybody who is anyone will have undoubtedly heard of the classic Creative Sound Blaster and will remember it as the premium gaming sound solution for desktop PCs. Since then that name has been associated with portable sound solutions like the iRoar and high quality DACs like the X5 and X7.
At CES 2017 Creative was showing of a few new products with the highlight being the new BlasterX Katana. This is no ordinary 2.1 desktop sound system as it combines many of the features found in the iRoar like Bluetooth connectivity and sound profiles with a high quality triple amplified speaker system with a subwoofer.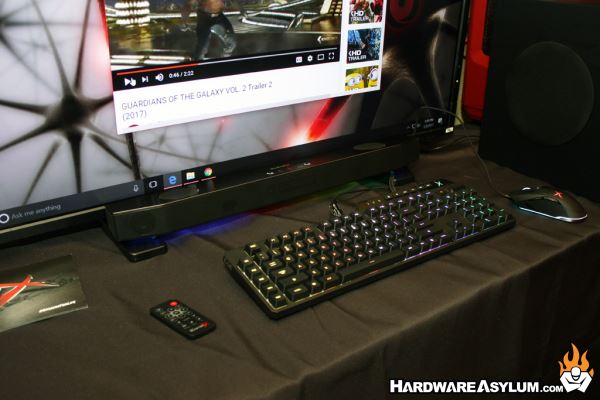 The demo they had running was the new Guardians of the Galaxy trailer and the quality and amplification was "bose'esq" giving you the impression that the speakers must have been larger to fill such a noisy meeting room. As you can see from the photo the Katana is a multi channel sound bar meaning that all of the speakers and controls are in a single unit. This can pose a problem on the desktop but nothing some creative organization can't fix.
Of course, as an added bonus the Katana also comes with an RGB LED light strip underneath to help give your workstation some cool ambient lighting.
They also had a new line of gaming hardware in display including this RGB gaming keyboard and matching mouse.
The mouse is pretty cool since it comes with an RGB underglow and integrates with the keyboard using their new "single download" driver package. (maybe one of the most important features mentioned during my meeting with them.)
I was very impressed to see they are bringing back a new BlasterX discrete sound card (with RGB controls).
The final new item on display was this external mixer that can be used for a variety of things from Karaoke and voiceovers to game streaming and podcasts. I'm really looking forward to testing it out!
Look for many of these products to be released later this year.