Phanteks Watercooling Components Shown at CES 2017
Author:

Dennis Garcia
Published:
Tuesday, January 17, 2017

Introduction
Like most enthusiast casemodders I am a fan of the Phanteks computer cases as they tend to offer the most flexibility for custom computer builds without the need of mods. During CES 2017 Phanteks was showing a new prototype case they call "Project 217".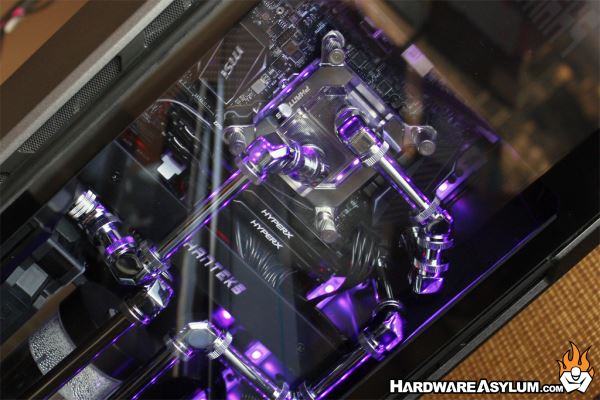 This new case is a vertical SFF chassis that has been designed to fit Mini ITX motherboards. Similar to the Enthoo EVOLV the chassis is made from aluminum and featured a tempered glass side panel. Inside the demo unit they had a standard Mini ITX motherboard along with a full hardline waterloop and some LED lighting.
What I really like about this case is the form factor as the vertical design can fit well with a home theater application or be used horizontally as a desktop. Either way it won't take up too much space while still adding a unique style to your office or home theater.
Speaking of watercooling, Phanteks will be launching a line of watercooling parts which include all of the major components. Their CPU block is a simple two barb thin fin design while the GPU blocks feature a thicker base than what you might find from EK and a really good looking set of decorative shrouds.
The GPU blocks will be available for all of the major video cards and should finally give us an alternative to choose from when watercooling a video card.
Phanteks is also offering a line of compression fittings for both soft and rigid tubing. These fittings will be available in all of the common configurations such as straight, 90 degree, rotational, etc. and can be found in both black and chrome finish.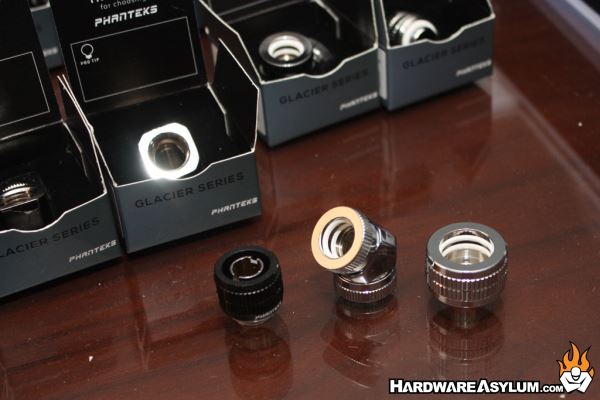 For the rigid compression fittings you will get two o-rings, one on the collar and one in the fitting to help control leaks and prevent the tubes from slipping. The white o-ring is also made from a special compound that is tear proof and very resilient which should make them a little easier to work with.