Thermaltake To Keep Modding Alive at CES 2017
Author:

Dennis Garcia
Published:
Thursday, January 19, 2017

Introduction
I never really noticed it before but Thermaltake has been keeping the enthusiast modding sector alive for quite some time now with their LCS certified cases and extensive gaming accessories. Say what you will about their product choices however, in the big picture they have a really good selection to choose from.
Much that was on display we have all seen before with a few twists. For instance the Core V51 and Core X31 are both getting tempered glass side panels and instead of retooling the entire chassis the panels are being offered as a retrofit.
I'll have to get one of these for our Core V51 modding project.
Many of the displays were done to showcase the power of a modded PC including this full gaming rig built with a Thermaltake P5 on a LG widescreen monitor.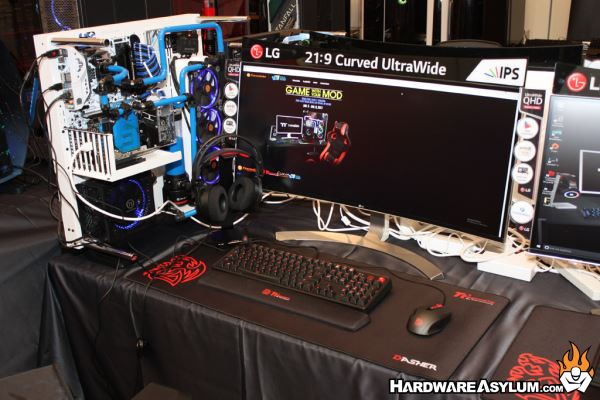 Of course headphones, mouse mat, keyboard and mouse are all present.
While I wouldn't consider the previous to be a "mod" in the classical sense they did have a number of custom builds from the Thermaltake Modding Invitational on display. Two of these were built using the Tower 900 chassis that, frankly, looks like a 3D printing machine chassis with computer gear in the middle.
The Tower 900 does make for some pretty builds like this one using dual hardline loops.
In case you haven't noticed all of these systems are using the full line of watercooling gear from Thermaltake. I reviewed these components last year and really enjoyed using them.
The line has been expanded to include a pure black opaque coolant, GPU waterblocks, RGB CPU waterblocks, and assortment of fittings, flow meters and fans.
Despite the RGB and Tempered glass "theme" of CES 2017 it really was a good show and I'm looking forward to see how people use these products in the future.