Twenty Years of Thermaltake and the Level 20 at CES 2018
Author:

Dennis Garcia
Published:
Thursday, January 25, 2018

Introduction
It is hard to believe that Thermaltake has been around for 20 years and over that time they have released some pretty amazing products. At the 10 year anniversary they worked in conjunction with BMW to bring use the Level 10 and now at the 20 year mark we have the Level 20.
Level 20 is designed in flavor of the Level 10 in that it has three compartments and is free standing. After that things get a little more modern. All of the moving panels are Tempered Glass and all three compartments are connected with pass through holes. This allows builders to place components where they want and not worry about making sure things can be routed. Like the Level 10 the back panel can be removed for cable management and cooling is handled through gaps in the panel sections and large vents found at the back of the case.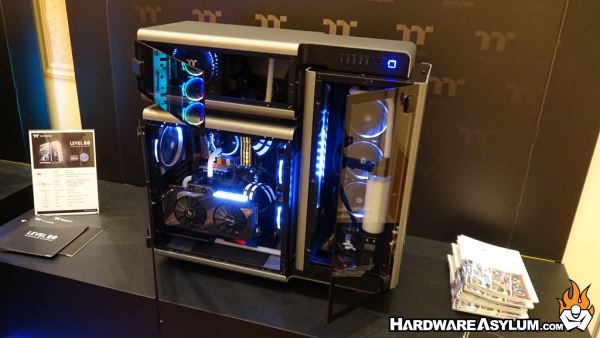 The base chassis is aluminum with top mounted controls, large round over corners and an overall attractive design.
One of the impressive mainstream cases was the View 71TG. This is an existing design which is now offered in white and features Tempered Glass panels on four sides and ample venting at the front and top giving YouTube channels zero excuse to complain about tempered glass and case cooling.
Speaking of complaints there have been widespread criticism of the TT Premium watercooling gear. These are mainly centered on a bad batch of C1000 coolant that would coagulate and clog up peoples builds. Personally I had a batch of this bad coolant and never had a problem. Regardless Thermaltake tells me that they will no longer be offering the C1000 opaque in favor of C1000 Clear combined with a dye kit.
The second complaint was with their aluminum radiators. We dedicated a podcast to the dangers of mixed metals in a watercooling loop and how people tend to blow things out of proportion. Truth is, there are risks and some of them are small and preventable however, you cannot protect everyone and the Internet is a pretty powerful persuader. As a result Thermaltake is now offering a line of 100% copper radiators in a few select sizes to test the market. If they gather traction the plan is to offer more sizes and give builders more choices.
A common theme with all of the hardware vendors is RGB LEDs and Thermaltake has fully embraced the RGB lifestyle and offer just about EVERYTHING with an RGB LED option. Waterblocks, fittings, fans, reservoir tops, mousepads, mice, keyboards and the list goes on. To help unify RGB LEDs across competition platforms they are offering a product called TT Sync. This is a standalone RGB controller that will sync Thermaltake RGB products with ASUS, GIGABYTE, and MSI motherboards and finally giving some unity to the chaos known as RGB.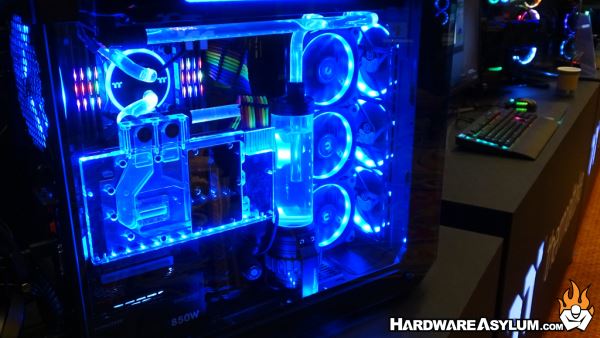 The final item that really impressed me is their new line of TT Hardline fittings. These fittings break with tradition by separating the fitting into three parts and by doing so really simplifies hardline installations and any question as to low long your tubes need to be.
Be sure to check out our CES 2018 YouTube video with a rather large section dedicated to our Thermaltake visit. You might even see some of the new Copper radiators, new fittings and lots of RGB lights.