HyperX Gaming QuadCast Desktop Microphone at CES 2019
Author:

Dennis Garcia
Published:
Sunday, January 20, 2019

Introduction
HyperX has been hitting the eSports gaming business hard. The company has sponsored several eSports teams in the past and has started releasing an entire product line to help gamers get the most from their games while still making the products affordable in the retail space. If that wasn't enough HyperX recently was awarded multiyear naming rights to the first dedicated eSports arena in North America located in the Luxor Hotel and Casino in Las Vegas.
At CES 2019 HyperX had several great products on display and two really caught our attention. The first was the HyperX Quadcast desktop gaming microphone. This is a USB powered condenser mic with multi pattern support and a very unique way of indicating when the microphone is active.
A single tap to the top of the mic will enable and disable the mute feature and is indicated by a red glow behind metal mesh. Gain control is located at the bottom and the entire microphone and is suspension mounted to prevent any undesirable vibrations from being picked up. (eg moving the microphone around)
Along with the normal RGB enabled memory and SSDs HyperX was also showing the new HyperX Cloud Orbit S gaming headphones. These appear to be a very traditional set of headphones with detachable microphone, replaceable ear cups and super comfortable head band. However, what makes them unique is the use of Planar Magnetic drivers instead of traditional dynamic speakers.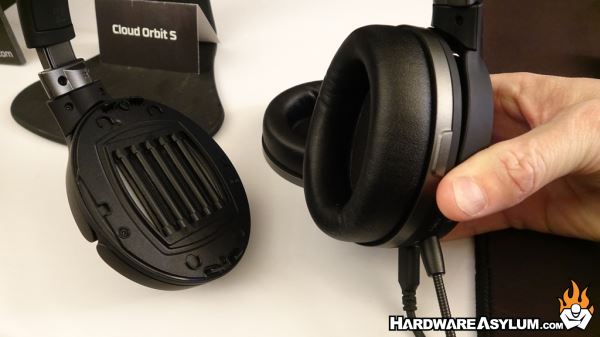 Dynamic speakers with a traditional voice coil are inexpensive, super common, suffer from distortion at high volumes and are otherwise really quite good. Planar Magnetic speakers work similar to a dynamic speaker while generally offering better sound quality with no distortion and are often quite thin by comparison. The only downside is cost as they are rather expensive and require an amplifier to work properly.
HyperX is going to offer the Cloud Orbit S at an amazing price point (lower than you might expect) and is sure to propel the HyperX brand into a higher market when it comes to gaming ready headphones.