The Fabled MSI Lightning Surfaces Again at CES2019
Author:

Dennis Garcia
Published:
Wednesday, January 16, 2019

Introduction
Back when I was trying out for the MSI MOA (Master Overclocker Arena) there were two rather large costs of entry. The first was binning a good CPU to ensure the highest stable clockspeeds. The second was a Lightning edition video card. Back then factory supported overclocking was really quite common and, while rare, you could find a Lightning card to buy.
These days many of the tier 1 hardware makers are stepping away from overclocking to focus on more profitable product lines. Honestly I thought the Lightning edition video cards would be all but a memory.
That is until I saw this during CES 2019.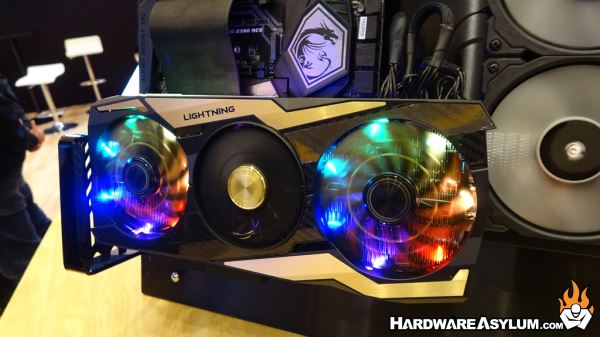 This is the MSI GeForce RTX 2080 Ti Lightning Z. It features some amazing things like "Phantom of the Lightning" which is a new visual technology to dazzle you with vibrant colors and effects on the TORX Fan 3.0 blades. The lights are controlled from the MSI Dragon Center software (not Mystic Light?).
A full Carbon backplate to improve board strength (and style)
There is a full OELD panel allowing you to view graphics, temps and clockspeeds all from a single panel.
The GPU is a RTX 2080 Ti and as of CES there were no published clocks and sadly it was indicated that they are only making a handful of cards.
I suspect the "handful" of cards will likely go to the professional overclocking crowd with a few making their way into the international markets. Sadly, very few of these unicorns end up being sold in the US.
I can't imagine why not either, I mean this card comes with a Lightning branded support bracket and black I/O shield. If that isn't super pimp I'm not sure what is.