ZOTAC Shows Their RTX 2080Ti ArcticStorm Watercooled Graphics Card at CES 2019
Author:

Dennis Garcia
Published:
Sunday, January 20, 2019

Introduction
I have always been a watercooling enthusiast and while watercooling is very niche and does offer higher cooling performance it is still prohibitively expensive for many enthusiasts. (not saying that the cost of the RTX 2080 Ti helps that either)
ZOTAC was showing their ArcticStorm waterblock design at CES 2019 and it looks amazing. The block is a custom design unit with plenty of clear acrylic to not only show off the cooling capability of the ArcticStorm but to act as a secondary light source for the integrated RGB Spectra lighting effects.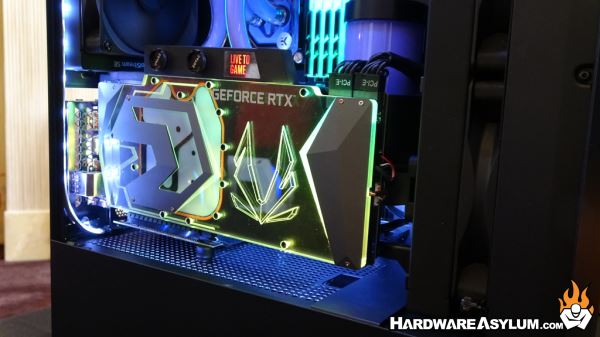 Under the surface the ArticStorm is covering a standard ZOTAX AMP Extreme edition video card with a 20 phase VRM and factory GPU overclock.
The backplate can be found on all AMP Extreme graphics cards with the "Live To Game" logo text and cutout for the Power Boost voltage capacitor. For those with custom DIY water loops the ArcticStorm might be exactly what you are looking for especially when you consider the built in light effects that you would normally give up using an aftermarket block.
If you are also one to really "push the limit" (Another ZOTAC phrase) the ArcticStorm cooler also has clearance for ZOTAC branded SLI bridges.