Computex 2013: Day 2 - Visits with Roccat Corsair and EVGA
Author:

Dennis Garcia
Published:
Wednesday, June 05, 2013
Introduction
The second day of any trade show is typically the busiest, all of the major press releases have gone out so it is time to finally see the new products up close and personal. In the case of some vendors this also means they can open up that part of their booth. Case in point, Asus. Asus blocked off the ROG section of their booth until after the morning press conference just so that nobody could leak any information before its time. I'm not sure what they gain from that but it does add a little mystery to the launch, if only for a few hours.
Roccat
My first meeting was with Roccat and they have been working hard to bring the new mechanical keyboards to market that were shown at CES. Initially their keyboard only featured a single type of keyswitch and for most gamers that is enough. However, based on market feedback they have expanded the product line to include versions with all of the major keyswitches giving users a choice in what they buy.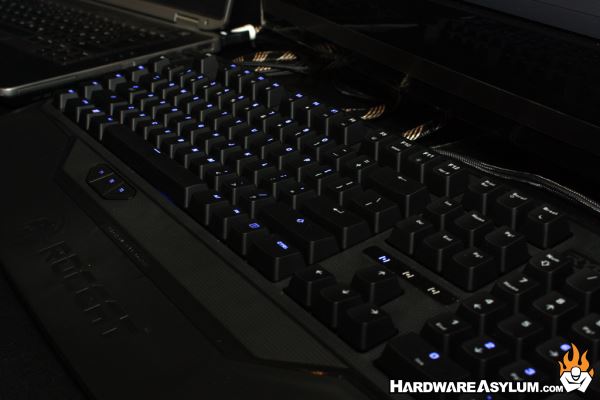 The keyboard still features the programmable LEDs and as a tech demo they had a script running that would create a little light show.

There are also a few changes to the Kone mouse line up which mostly includes a few additional colors and the addition of an optical mouse. I have seen a few companies announce optical mice at Computex this year somewhat indicating that laser optical mice have finally been played out.

Also make note of the Hiro mousepad, this one is best described as a rubberized mouse surface that can be rolled up, cleaned and used on almost any surface.