Computex 2014 In Win D-Frame Mini
Author:

Dennis Garcia
Published:
Friday, May 30, 2014

Introduction
When it comes to open air computer cases there are a couple of options that come to mind. You could take the route of simply setting up your PC on a cardboard box which allows you access to every component but doesn't do much to protect the components. Or, you can elect to use one of the many different variants of a PC test bench. A test bench will protect your components better but was never really designed to be portable or compact.
At Computex 2014 In-Win will be showing a variety of new cases including the new In-Win D-Frame Mini and we got a special look of the case before the opening of the show. The new D-Frame Mini is as Mini-ITX variant of the popular D-Frame chassis that was shown at CES a few years ago and promises to bring portable protection to your SFF computer build.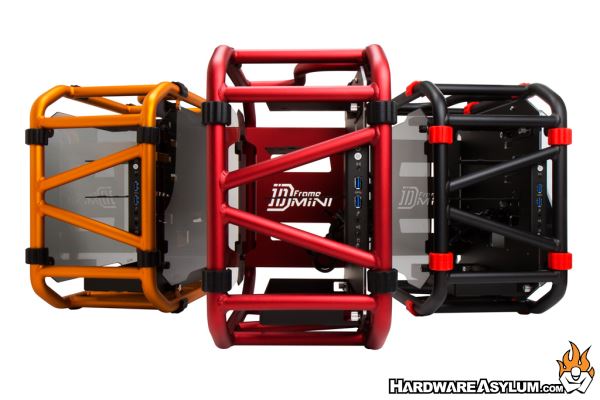 The D-Frame Mini is available in three colors including Orange, Red and Black. These colors appear to align with popular motherboard colors and should fit those systems nicely.
Like the original D-Frame cable management is handled by creatively routing cables behind the motherboard tray and visually hidden behind two sheets of shaded tempered glass. The glass is held in place with four thumb screws and is rubber mounted for impact protection and noise control.
In looking around the D-Frame Mini you will notice the triangle reinforced tubular frame that makes up the outer edges of the chassis. These tubes are made from aluminum stock and is designed to be strong and yet extremely light. Across the top you will notice an "S" shaped pipe which happens to be the special built carrying handle. Of course you could use any bar on the frame to carry the case but the pipe across the top fits the hand better and reinforces the overbuilt nature of the D-Frame construction.
Cooling can be handled in a variety of ways either by using the ambient nature of the D-Frame design or can be helped along with two 120mm fans that can be placed at the bottom of the chassis. This fan location also supports dual fan 240mm radiators if you wish to watercool.
Specifications
Material: Aluminum Pipe, Aluminum Plate, Tempered Glass
Motherboard Form Factor: Mini-ITX
Internal Drive Bay: 3x 3.5" / 2x 2.5"
Power Supply: N/A
I/O Port: USB 3.0 x 2, HD Audio
Cooling: Supports 2x 120mm fans at bottom / 240mm Radiator
The Mini-ITX chassis market has been heating up and cases like the In-Win D-Frame Mini are pushing the limits in chassis design and finally giving the hardware enthusiast more chassis options that not only look good on your desk but will turn heads at LAN events.