Computex 2014 In Win S-Frame
Author:

Dennis Garcia
Published:
Monday, June 02, 2014
Introduction
Traditional computer cases are elaborate modifications of a simple metal box. There are holes for expansion cards, places to put hard drives and generally subscribe to a "form follows function" mentality with the cheapest option making the CEO proud. Does that mean all cases have to follow the same formula? If so, when does a chassis no longer become a computer case and transform into something new?
There is a new case design from chassis maker, In Win showing at Computex 2014 and has stretched the boundaries of what a computer chassis can be. While most of the world will see this case unveiled at Computex we got a special look well before the show started.
Enter the In Win S-Frame.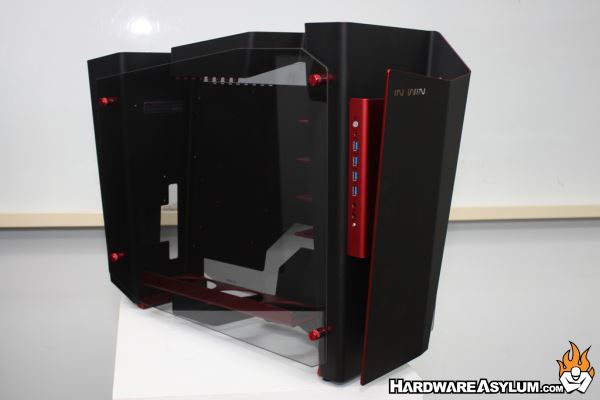 The In Win S-Frame is a very unique case and borrows its name from the manufacturing process that created it. If you take a piece of cardboard and stand it on end it will quickly fall over however, if you start bending the cardboard at certain locations it will eventually be able to stand up on its own. This is the approach In Win designers took in creating the S-Frame and the results speak for themselves.
As with some previous In Win case designs the S-Frame is designed to be an open frame and open air chassis with little to no EMF shielding. Both of the side panels are made from tempered glass and shaded to provide some visual distinction.
The case material is 4mm thick aluminum and bent 15 times to create the final form of the S-Frame chassis. A special anodizing process was created to treat the edges of the material differently than the face panels and give the case some visual distinction. The sample we saw was black with red accents however any color combination is possible.
Cooling is handled in a variety of ways either by using the ambient nature of the S-Frame design or can be helped along with three 120mm fans located at the bottom of the chassis. This location has also been configured to support triple fan 360mm radiators of your choosing.
The motherboard orientation is very reminiscent of the Silverstone Raven designs where all of the cables and exhaust venting is handled out the top. By inverting the motherboard you are using natural heat convection to cool your components and will rely less on fans.
Aircoolers up to 195mm can be used in the S-Frame making it very versatile to all types of cooling options.
Specifications
Material: 4mm Thick Aluminum Plate, Tempered Glass
Motherboard Form Factor: ATX / Micro-ATX
Internal Drive Bay: 4x 3.5" or 2.5"
Power Supply: N/A
Expansion Slots: 8x
I/O Port: USB 3.0 x 4, HD Audio
Cooling: Supports 3x 120mm fans at bottom / 360mm Radiator / CPU Heatsink 195mm
Video Card Support: Up to 340mm Long
As you can expect a case like this is rather complicated to make. Below are some more photos of the new In-Win S-Frame along with some behind the scenes photos of what it takes to make this awesome piece of computer art.
Available Images