Computex 2015 CatFi – The Intelligent Cat Bistro
Author:

Dennis Garcia
Published:
Thursday, June 04, 2015

Introduction
For the past 13 years I have been attending Computex and always considered the show to be the epitome of what a computer hardware tradeshow should be. While I attend Computex for the computer hardware the show itself was established to allow international buyers to see and use the products the company has for sale. The overall message has been muddled over the years but you can still see those roots in displays that show both old and new products so the visitors can see the genesis and make informed decisions.
I was walking around Hall 3 during Company and stopped by a group of start-up companies showing off some of their first generation products. The one that caught my attention was this. The CatFi Intelligent Cat Bistro.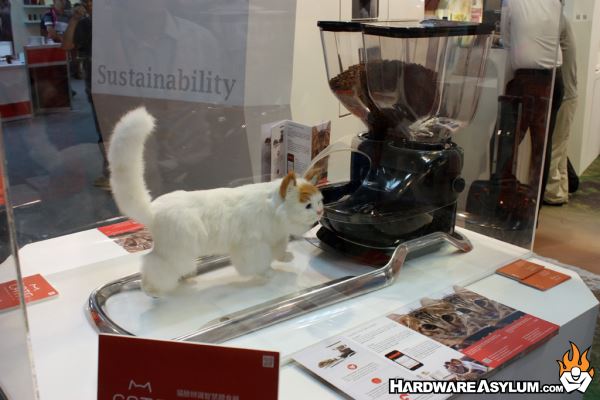 What makes CatFi so amazing is that it uses facial recognition software to know your cat and make sure they are getting the proper amount of food. It can also track feeding habits and know exactly how much your cat is eating over time and will adjust portions based on breed and weight of your cat.
While the benefits of this can easily apply to a single cat they become compounded if you have more than one with each having different dietary concerns. (eg fat cat that steals food from the bowl vs the skinny cat that never gets to eat)
The feeder controls both food and water, Food is filled from the top and will disburse based on owner configuration. The water is continuously filtered to ensure your cat is getting the freshest water .
CatFi is controlled by a mobile app and allows you to view and change configurations at any time and will also alert you to changes in feeding which may indicate that your cat is sick, having a bad day or might have supplemented their diet with something else.
Check out more at http://catfi.com/