iGame Colored Motherboards Found at Computex 2018
Author:

Dennis Garcia
Published:
Sunday, June 10, 2018

Introduction
Readers of Ninjalane, back in the day, will undoubtedly remember a motherboard brand called Chaintech. I had reviewed several of their products including a few motherboards and at least one video card. They were solid products however, a downturn in the motherboard market forced them to get out of the PCB business only to take up storage and memory before being purchased by Colorful.
Wouldn't you know it, Chaintech is back and happens to be one of the only vendors around that isn't doing a black PCB. Well, that isn't entirely true. While this iGame X299 Vulcan X does have a white PCB and supporting accessories they do offer a black version with identical specs.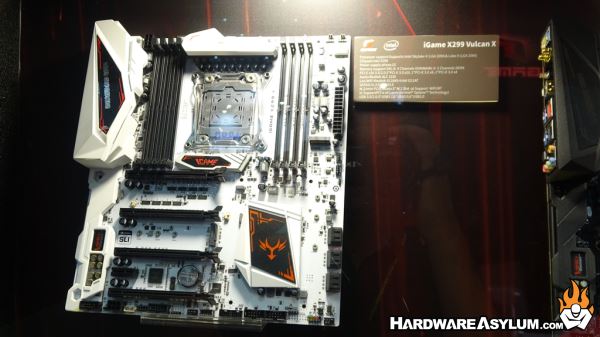 Speaking of specs, this is a basic motherboard with a 10-Phase VRM and Realtek ALC 1220 audio controller. Everything else is minimal spec giving you a X299 gaming platform in a non standard color.
They also had a pretty kick ass watercooled 10 Series video card on display with a hybrid waterblock. The waterblock features quick disconnect fittings and can be paired with an AIO watercooler. Based on the display this appears to be a limited edition halo product with some pretty huge demands when it comes to getting that AIO mounted.
But, it looks damn impressive.
A common theme you'll notice with computer hardware is an attention to the demands of mining. This has a unique set of requirements in that the motherboard doesn't need much power but does need to support a great number of video cards.
Colorful was showing off a mining system that was built from a rackmount computer chassis and specially designed motherboard with lots of extra space between the cards. All of this fits in a large box with server grade cooling fans. After that you are off cracking crypto.