EK Shows their Velocity Waterblocks at Computex 2018
Author:

Dennis Garcia
Published:
Tuesday, June 12, 2018

Introduction
EK Waterblocks is a new company for me to visit at Computex and much to my surprise they had a good majority of stuff on display from their low cost aluminum based watercooling kits to some ultra high-end wooden watercooling parts, you know for those who really want to make an impression.
The two hightlights for me were the opaque coolant formulas that are engineered to address many of the concerns people have with opaque fluids. Sadly the colors cannot be mixed and they are not safe for mixed metals but they looked really good and didn't settle. The lack of mixed metal support doesn't surprise me given the EK message against doing that anyway.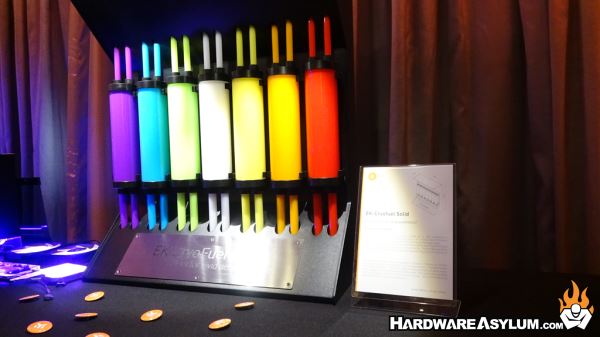 It will be interesting to see what the reception to the fluid will be.
The other interesting thing on display was a change in waterblock design to add specific branding to the blocks and make them a little more distinctive. To attain this you'll notice some metal tabs on the CPU blocks and a more distinctive cover that will obscure the boring parts of the waterblock.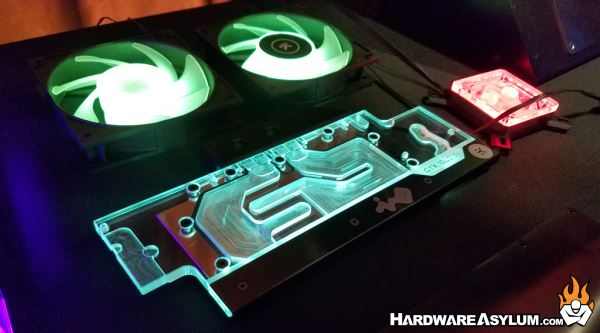 Of course the main reason for the redesign is to better support RGB LED lighting effects. The LEDs will be located under the new edge details to create the distinctive glow common to indirect lighting.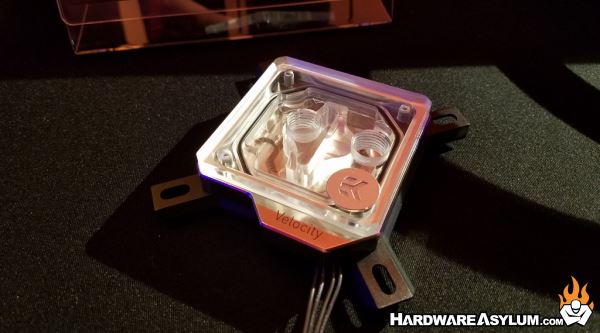 Under the lid they have also revised the channel design to remove the accelerator plate and improve water flow though the block. By the looks of it they also moved to a microfin design which does wonders for increasing performance.