Crystal RGB LEDs from GSKill at Computex 2018
Author:

Dennis Garcia
Published:
Monday, June 11, 2018

Introduction
GSKill was one of the first memory manufactures to offer RGB LED memory and make it available to the mainstream market. This memory became popular because it was based on the TridentZ memory both in heatspreader design and available memory speeds.
At Computex GSKill was showing off their latest revision to the popular TridentZ RGB memory with a sleek gold heatspreader and faceted RGB diffuser.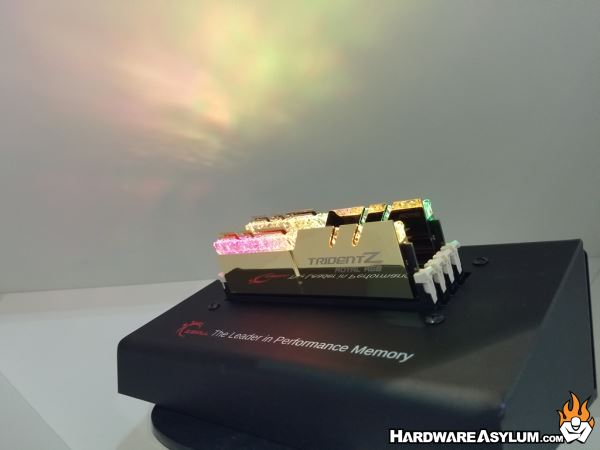 Personally I'm a little indifferent about the design considering it looks more like jewelry than a functional piece of computer equipment.
In addition to the new heatspreader design GSKill is offering faster memory kits with some reaching up to 5Ghz out of the box. Of course that will depend largely on CPU quality so keep that in mind when making a purchase.
GSKill was also hosting their annual overclocking competition and manufacture show. While overclocking has fallen out of popularity with most hardware makers I'm glad to see that GSkill is keeping it alive and that it can still draw in a crowd. (at least while the booth girls are giving away stuff)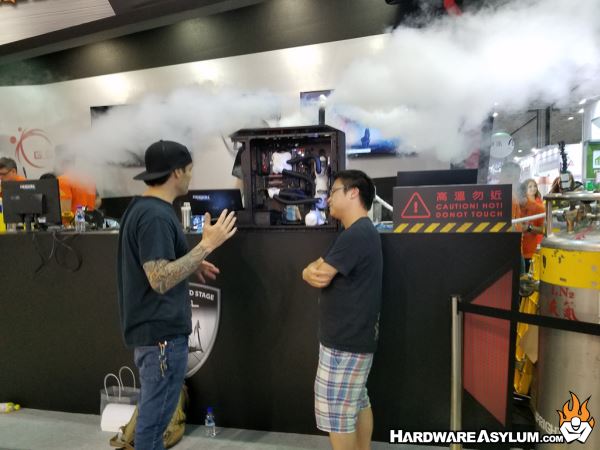 I was able to see some old friends including Vince (KINGPIN) from EVGA and Peter (Shamino) from ASUS. Shamino was benching coffee lake at "full pot" while Kingpin was showing off his roboclocker project which allowed him to secure world record overclocking runs without having to pour a single drop of LN2. Seems like cheating but, is still really damn cool.