MEG X399 Creation Threadripper Gaming from MSI at Computex 2018
Author:

Dennis Garcia
Published:
Sunday, June 10, 2018

Introduction
Threadripper is what I would call the "anti" gaming processor as it was designed for multithreaded operations common to datacenters and workstations and NOT desktop gaming where 12 cores have the potential to simply sit idle. However, that has not stopped motherboard vendors from trying and I will be the first to admit that I'm very excited.
MSI was showing off their MEG X399 Creation motherboard based on the AMD X399 chipset. MEG doesn't have anything to do with Family Guy but rather stands for MSI Enthusiast Gaming and is a new halo gaming series designed to be very different from previous products.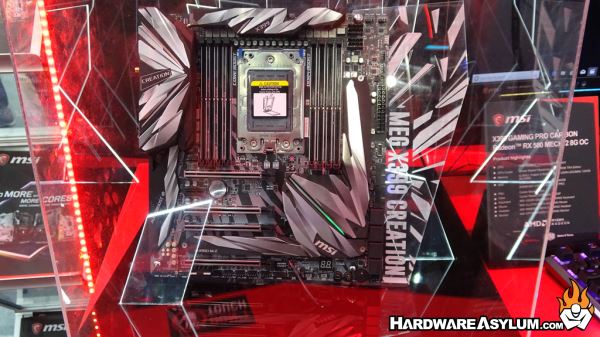 The MEG is designed for next generation AMD Threadripper processors and to help handle the excessive power demands it features an 18 phase VRM that takes up the entire top section of the motherboard. A heatpipe connects the primary VRM cooler to a secondary heatsink under the I/O cover and is designed to handle in excess of 300w TDP processors. Even if the new Threadripper only draws 250w that can quickly be exceeded with only minor amounts of overclocking.
Along with the gaming configuration, extra large VRM and unique styling the board will come with M.2 expander cards allowing you to run up to 7 M.2 drives. Three on the motherboard and four more on the expander.
To keep the NVMe drives cool MSI has adapted a video card heatsink to mount directly to the expander with a thermal pad providing the connection.
Of course the motherboard supports all of the MSI gaming features and may finally convince *this* enthusiast level Intel gamer that it might be time to sample some Threadripper action.