Cooler Master Shows Super Light and Wireless Mice During Computex
Author:

Dennis Garcia
Published:
Saturday, June 01, 2019

Introduction
As Gamers and PC Enthusiasts there is a certain image that comes to mind for the most ideal mouse. Personally I like my mice to have a bit of weight to them. This is mostly to prevent the high quality braded cable from pulling the mouse off the table when I let it go but, also to help me tune the tracking. From there a nice shape, reliable optics and stable glide surface factor in but are not all that important.
Of course there are other people out there using mice on a daily basis and while I have my personal preference there are others that want the lightest mouse possible. Well, Cooler Master has you covered, or exposed in this case. The Cooler Master MM710 features a proprietary honeycomb composite shell that provides the mouse shape we all need while also drastically reducing overall weight of the product. The design is ambidextrous and features a 32000 dpi sensor and was being shown in two colors.
And… for the the best part is that the mouse only weighs 52 grams.
If super light corded mice aren't your thing then maybe something without the wires will do the trick.
The Cooler Master MM831 features three connection modes. Corded, 2.4Ghz and Bluetooth 4.0. It comes with a 32000dpi optical sensor and features PBT buttons and rubber sides for comfort and durability.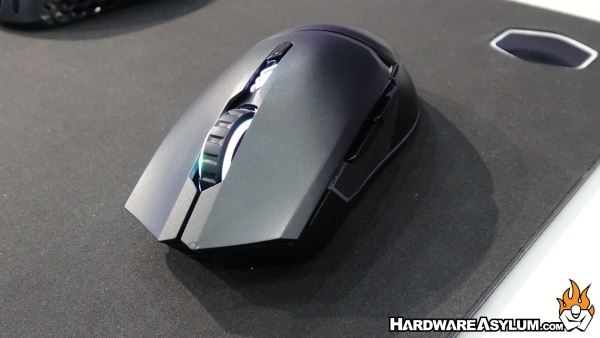 Being that this mouse is wireless it will eventually need to be charged and that is handled with Qi capacitive wireless charging (same as your phone) so you can charge the mouse while you are using it on an approved mouse pad or with the headphone stand we saw during CES.