EK Waterblocks showing new CPU block designs at Computex
Author:

Dennis Garcia
Published:
Thursday, May 30, 2019

Introduction
I have been a watercooling extremist for many years and while the current trend is to make watercooling pretty I have been known to take things to a different level. EK is doing something similar but in a more elegant direction. The highlight of my visit with EK is seeing their latest waterblock design. This block features a countersunk mounting system so that you no longer see the screws and springs after your block is installed.
The new Magnitude water block also features a number of different customizing options including different colors for the mounting plate, different materials for the top cover, different materials and colors for the midplate and different finishes for the cold plate. To put it another way the block design is new and there are too many combinations to consider when it comes to building a block for your build.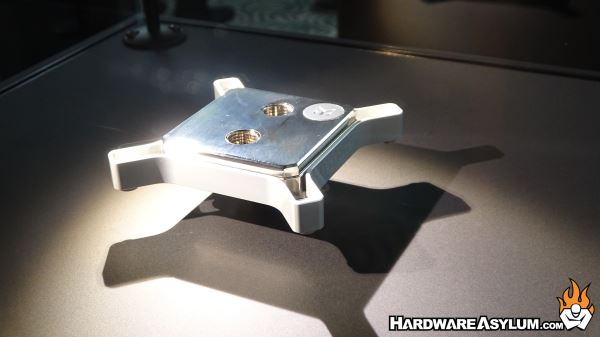 Of course that doesn't even consider mods that you might do yourself.
In keeping with the custom theme EK was also showing a new set of dress up parts for a new line of fittings. If you look carefully you'll see a little slash of color under the compression ring. This is a replaceable collar allowing system builders and enthusiasts a chance to color match their parts and add that extra touch of class to their builds.
I hear that is all the rage these days.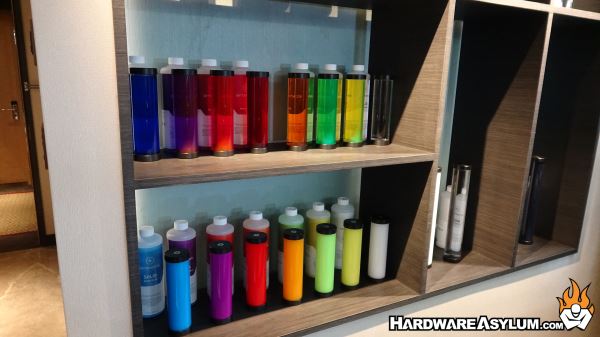 EK has already introduced their line of custom watercooling fluids and this year they are adding a dye kit so you can mix your own custom color when matched with their clear coolant. The fluid is qlycol based for superior corrosion resistance, dye staining and offers more vivid colors.