Cooler Master MasterCase MasterConcepts Shown in US Offices
Author:

Dennis Garcia
Published:
Wednesday, July 20, 2016

Introduction
Earlier this month I took a quick trip to sunny Southern California to meet with some of my manufacturing partners and one of those stops was with Cooler Master. They had arraigned to show me around and help me get caught up on what I missed at Computex including some details on their plans for the future.
Cooler Master is one of the few hardware makers who don't have a overwhelming presence in the eSports world. Instead they have adopted to support the "maker movement" and will sponsor artists and creative types that do many of the same things they do. It is no secret that Cooler Master has always been an innovator in the computer hardware world so why not support like minded individuals and teams who do the same.
High school and College robotics teams are a large recipient of Cooler Master support and there were a number of robots in display including a huge "battle bot" designed to participate in tower siege competition. (not pictured)
The MasterCase and MasterBox are both very innovative chassis designs that were spawned with the idea that computer cases can be modular. To reinforce this Cooler Master has provided a variety of replacement parts that allow users the ability to customize their chassis to meet their needs. Well, the maker concept goes beyond a Cooler Master store to include components from third party modders who specialize in casemodding accessories.
Everything on this table has been built by independent people expressly for Cooler Master Products. Pictured here you can see sleeved cable kits and replacement panels for a standard Master Case 5
There was even someone who makes wooden wrist guards for popular Cooler Master keyboards.
If you prefer a factory approach to your casemods then something like this might interest you. Here we have a Master Case 5 complete with a red anodized frame and CM Storm Trooper inspired carrying handle.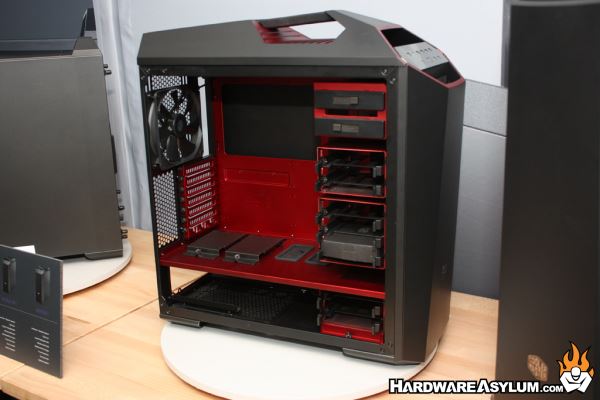 Cooler Master is looking to expand the Master Case offerings to include a Micro ATX version and was showing an Aluminum frame concept that could allow you to build your chassis from the frame up or simply be much lighter.
Two Final Concepts
Everyone knows about the lawsuit between Asetek and Cooler Master that ended with Cooler Master having to stop selling their AIO coolers in the US. It would seem that Cooler Master has come up with an alternative AIO design that not only performs better but is legal for them to sell in the US.
This AIO cooler features a unique dual layer pump block combo with independent chambers for cooled liquid coming from the radiator and the heated coolant that has passed over the water block. At first glance it seems like the larger chamber should be full of liquid but is really just an open area to protect the internal piping.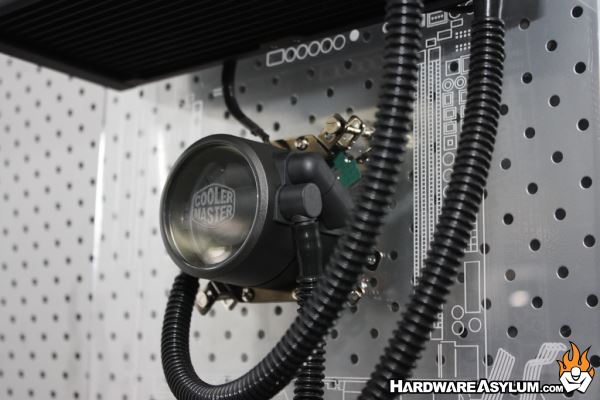 The final concept feature is clearly a highlight of the event and consists of a fully modular computer case.
During the demonstration many of the panels from the smaller case were interchanged with the larger version and it was later revealed that with some extra parts you can build the smaller case into the larger one. This included interlocking modules to expand the motherboard tray, extra HDD trays, rail segments and other interior frame components.
It will be interesting to see if this concept becomes a reality and what the public reaction will be. Personally I like the concept but am skeptical because I know how lazy people can be. Heck most may never even read this last sentence.
Many of the products shown during this event will be available later this year so stay tuned for full reviews and more information when it becomes available.