MSI Product Preview Including the Cubi Mini PC Kit
Author:

Dennis Garcia
Published:
Wednesday, April 22, 2015

Introduction
Earlier this month I took a quick two day vacation so I could visit some of my partners in the computer industry. One of those stops was at the MSI US HQ where they introduced me to some of the new stuff they had planned for 2015.
Of course, being that this is Hardware Asylum I was most interested in hearing their plans for the next Intel processor launch and how that would impact their motherboard designs. While some of the specific details were hush hush they did indicate a change in how the motherboards would be colored. Several years ago MSI segmented their motherboards into different classes and assigned them a color. OC was Yellow, Gaming was red etc.. It would seem in 2015 those color choices are going to be distilled even more in flavor of a simple Black.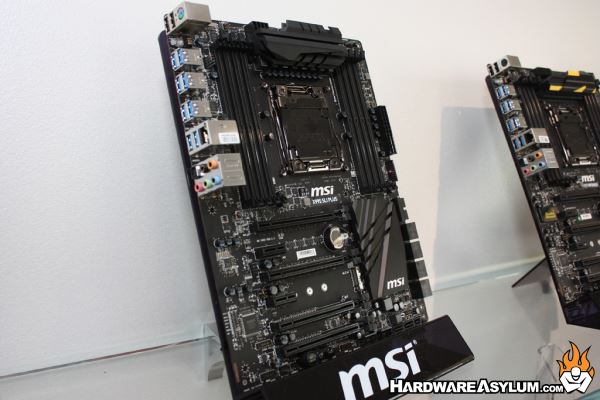 Several other companies have taken the all black approach and given their success with the Krait series, (Of which I seem to have missed the memo on) they want to continue on that trend and see how it works.
MSI Cubi
One of the highlights of my visit was the introduction of the MSI Cubi. As you can imagine this is MSI's entry into the NUC style mini PC market and based on what I have seen, it will be good.
Cubi is available in three different processor options.
Intel Core i3-5005U
Intel Pentium 3805U
Intel Celeron 3205U
All are Broadwell based embedded processors supporting both Windows 8.1 and Windows 7. Much like with competitor products the MSI Cubi is extremely small, highly energy efficient and comes with a VESA mount so it can be attached to any VESA display and thus, hidden from view. They even claim that the special cooler is extremely quiet at only 20.1 dBA.
Specifications
OS Supports Windows 8.1/7
CPU Intel Pentium 3805U (Broadwell, embedded)
Chipset Intel Broadwell U PCH-LP
Motherboard MSI Proprietary
CPU Cooler Two-ball fan heatsink Included
VGA Intel HD Graphics
Memory (GB) DDR3L SO-DIMM x 2 slots, 8GB Max
LAN 1 Gigabit LAN
Wireless Communication Intel WiFi 3160 (M.2) + 802.11ac + BT4.0 (included)
Audio Realtek ALC283
I/O 1 x HDMI-out, 1 x Mini DisplayPort-out
Expansion Slots M.2 x1 (occupied for WiFi), mSATA SSD slot x1, 2.5" HDD/SSD x1
USB Front: 2 x USB 3.0, Rear: 2 x USB 3.0
HDD/SSD mSATA SSD slot x1, 2.5" HDD/SSD x1
Power Supply 40W AC Adapter
Dimensions 4.53" x 4.37" x 1.28"-1.68"
When it comes to memory the Cubi can support up to 8GB of DDR3 and features two storage options from a M.2 SSD/mSATA SSD and full sized 2.5" SSD.
To get the smallest footprint the mSATA is preferable however by adding the extended bottom plate you can install a full sized 2.5" SSD. This provides you with plenty of options for storage size and speed.
The final option that we found to be especially good is support for dual 4K displays across HDMI and Mini Display port. Many of us have grown accustomed to having dual monitors on our desktops and now you can get that same visual appeal from a Mini PC. Of course the embedded processor won't replace a proper desktop machine but, it can take the place of an aging laptop or can be used to stream games across a network, play multimedia files, control digital signage, show an competition scoreboard and almost anything else you can think of.