EVGA Launches the Most Advanced Video Card Cooling Technology Ever!
EVGA Launches the Most Advanced Video Card Cooling Technology Ever!
Author:

Dennis Garcia
Published:
Friday, February 10, 2017

Introduction
This year at CES EVGA was showing a variety of new products from their Z270 based motherboards to a new, and less expensive, gaming chassis. Off to the side of their CES suite was a single video card with a new cooler design. They couldn't say much about it but you could tell by the design and weight of the card that something special was on its way.
Today EVGA is launching iCX. The iCX Technology is more than just a cooler, it is an entire cooling solution that is designed to not only perform better gives users the ability to interact with their video card, monitor temperatures and have better peace of mind that their card performing the best it can.
Starting with the cooler we have a variety of new features from a revised fin design with cross drilled holes to a form fitting Die-Cast baseplate and blackplate to cover all of the vital components and provide better cooling.
The two fans are also controlled independently based on readings from the 11 thermal sensors. Ten are located on the video card to track PWM, Memory and GPU surface temperatures while the last one is located in the GPU and is what used to control everything.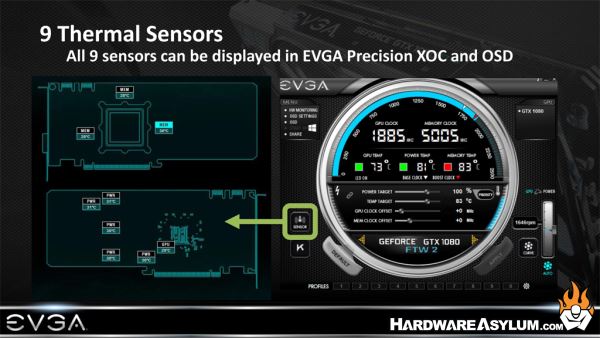 A new version of EVGA Precision XOC will be required for any iCX enabled video card and allows you to fully adjust fan profiles, fan curves, and thermal limits along with all of the basic controls we have grown to love about EVGA Precision.
Why Was EVGA iCX Technology Created?
Most tech sites will tell you that this is in response to the recent concerns with EVGA video cards burning up due to an overheating VRM. While that is partially correct you also have to consider that EVGA wanting to change how a video card was cooled. You see in the past the temperature of a card was determined by the core temperature of the GPU. This single temperature point controlled how the fans reacted with no concern for Memory and VRM temperatures.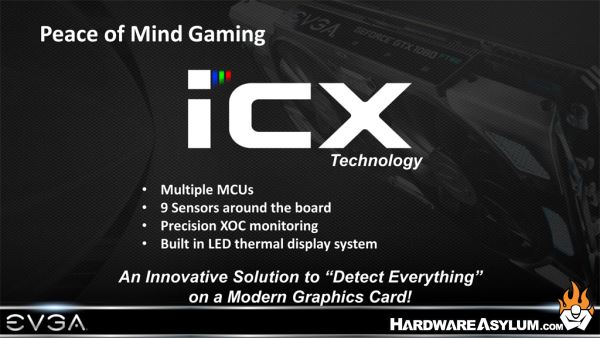 iCX technology is designed to address that and while the GPU is still cooled by the large heatpipe array there is only one fan dedicated to cooling the heatpipe and GPU. The secondary fan is tasked with moving air through the heatsink to cool the baseplate which has been fitted with pin style cooling fins and dimples to increase the surface area.
Be sure to check out EVGA.com for a full line up of iCX enabled video cards along with more information on the EVGA iCX Technology not covered in this article.
EVGA iCX Technology is not JUST a Cooler
EVGA iCX Has 9 Thermal Sensors and Multiple MCUs - All 9 sensors can be display in EVGA Precision XOC and OSD.
Asynchronous Fan Control – Separate left/right fan control including fan curve
A New and More Efficient Way to Cool – GPU fan determined by GPU temperature. (Left Fan) Power/Memory fan determined by Power/Memory temperature. (Right Fan)
Full Control with EVGA Precision XOC – Each sensor can be monitored in real time and displayed in PXOC OSD.
Interactive Cooling with Thermal LED Display System – User customized RGB color and visual alarm settings
Optimized Airflow Fin Design – Fin holes direct airflow through fins. Half open fin maximized airflow and L-Shaped fins increase surface contact
Die Cast and Form Fitted Baseplate and Backplate – Makes direct contact with all vital components. Maximize heat dissipation with increased surface area on baseplate.
Peace of Mind Gaming – An EVGA ONLY fuse adds another layer of protection to your card and system.